How time flies! It's been a while since we got together with our furry friends and their pawrents to congratulate Shanelle, our very own fun-loving and affectionate ambassador, on her first birthday. Join us to look back on those fond memories together.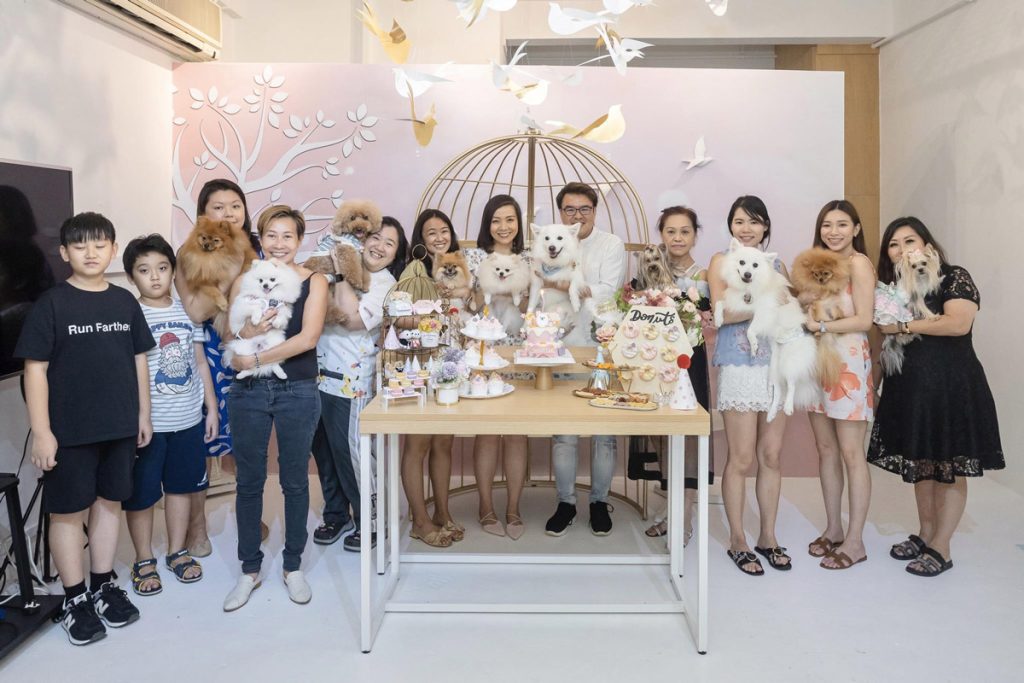 Shanelle was all smiles on March 20, as she managed to spend some quality time with friends.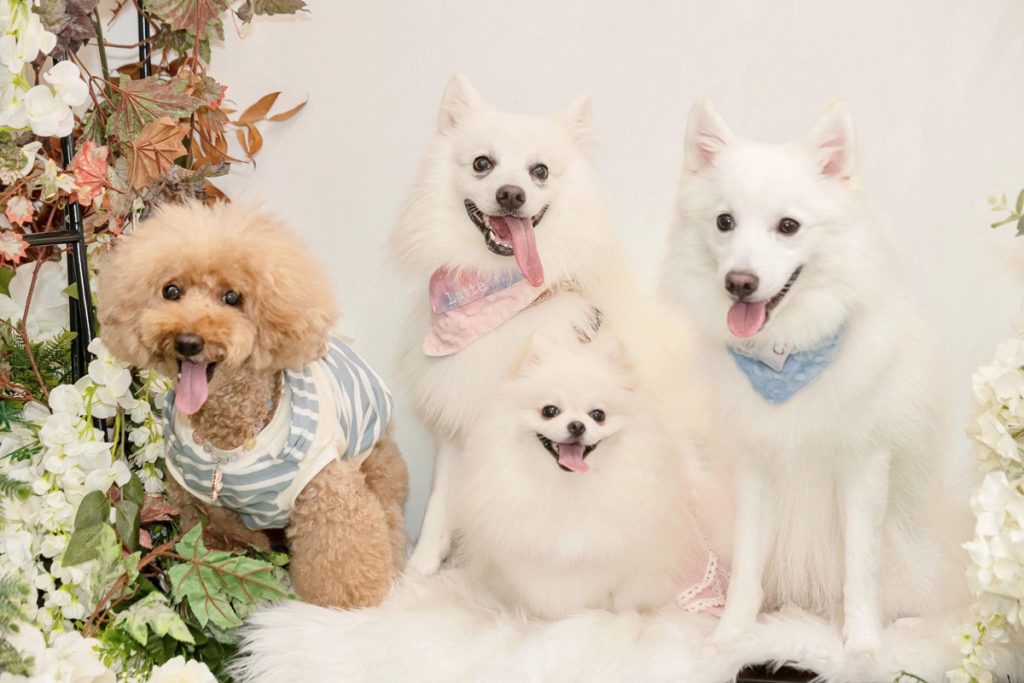 Our Germany-born white fluffball even reunited with her brother, Cotton, who was more than happy to shower her with birthday kisses!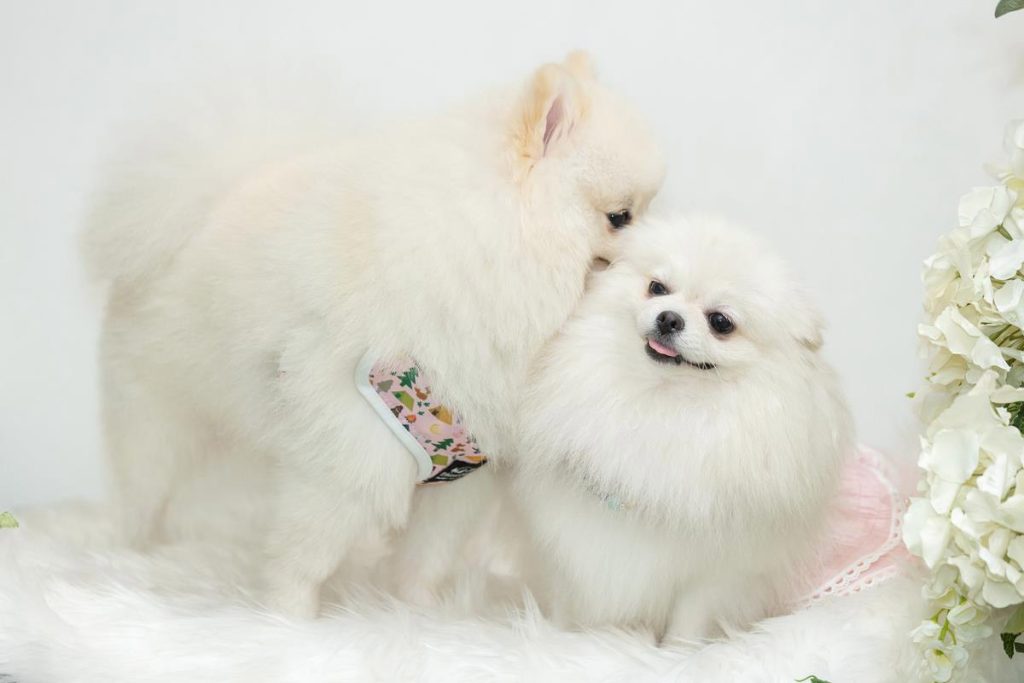 Overall, it was a fantastic time for hoomans and doggos alike. Each of our guests walked away with a goodie bag, as well as a chance to take a professional photoshoot in our studio.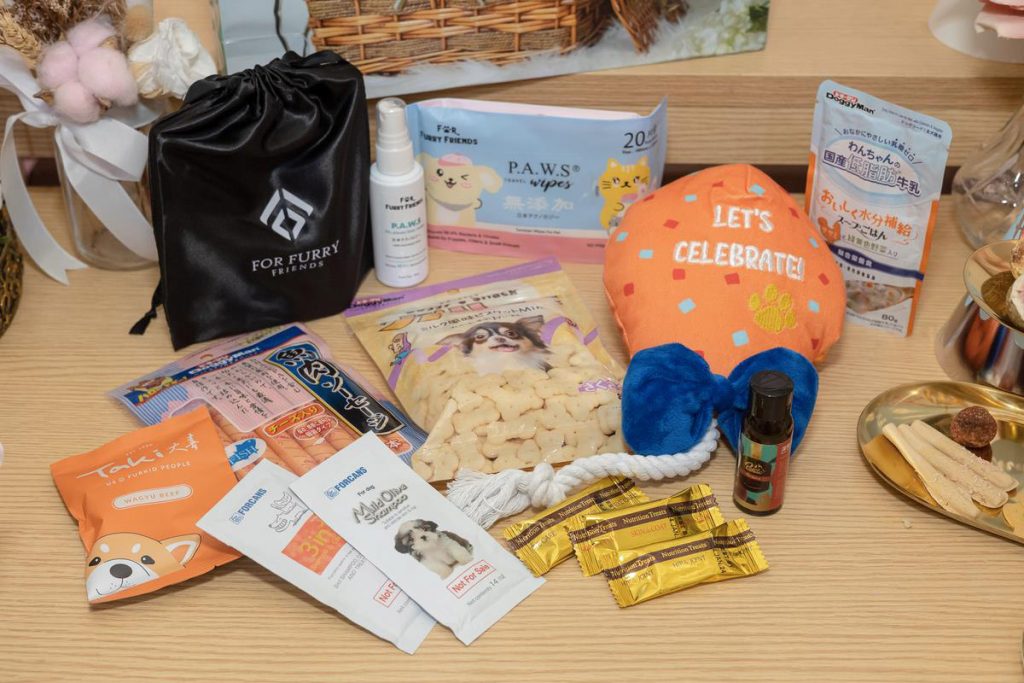 Curious about how it went down? Shanelle's pawrent went all out for the week-long celebration that ended with a birthday bash. Join us for an essential party planning checklist that we followed from the seven days leading up to the party!

Day 1. Monsterpet's Cakes & Dessert Table Treats
Eyeing our double-tiered cake? We'll let you in on our best kept secret: Monsterpet.
Our furiends were beyond excited to see a cake and desserts just waiting for them to devour! Better still, the treats arrived on a mini doughnut wall, a three-tiered cupcake stand and with plenty of macarons to go around – all in a lovely set-up perfect for our sweet pink party backdrop!
Craving your own dessert table? Get in touch with Monsterpet, whose cakes contain chicken breast as protein for your furkids. Take home the clay head modelled after your pet, alongside a happy birthday banner and other edible deco!
Other pastries to complete your spread include a treat platter featuring croissants, ice creams, monster cookies and more. Two Clubpets friends even won an Air Dried Treats Box, letting them open the festivities from the comfort of their home!
Learn more about Monsterpet
Website: sgmonsterpet.take.app
Instagram: @sgmonsterpet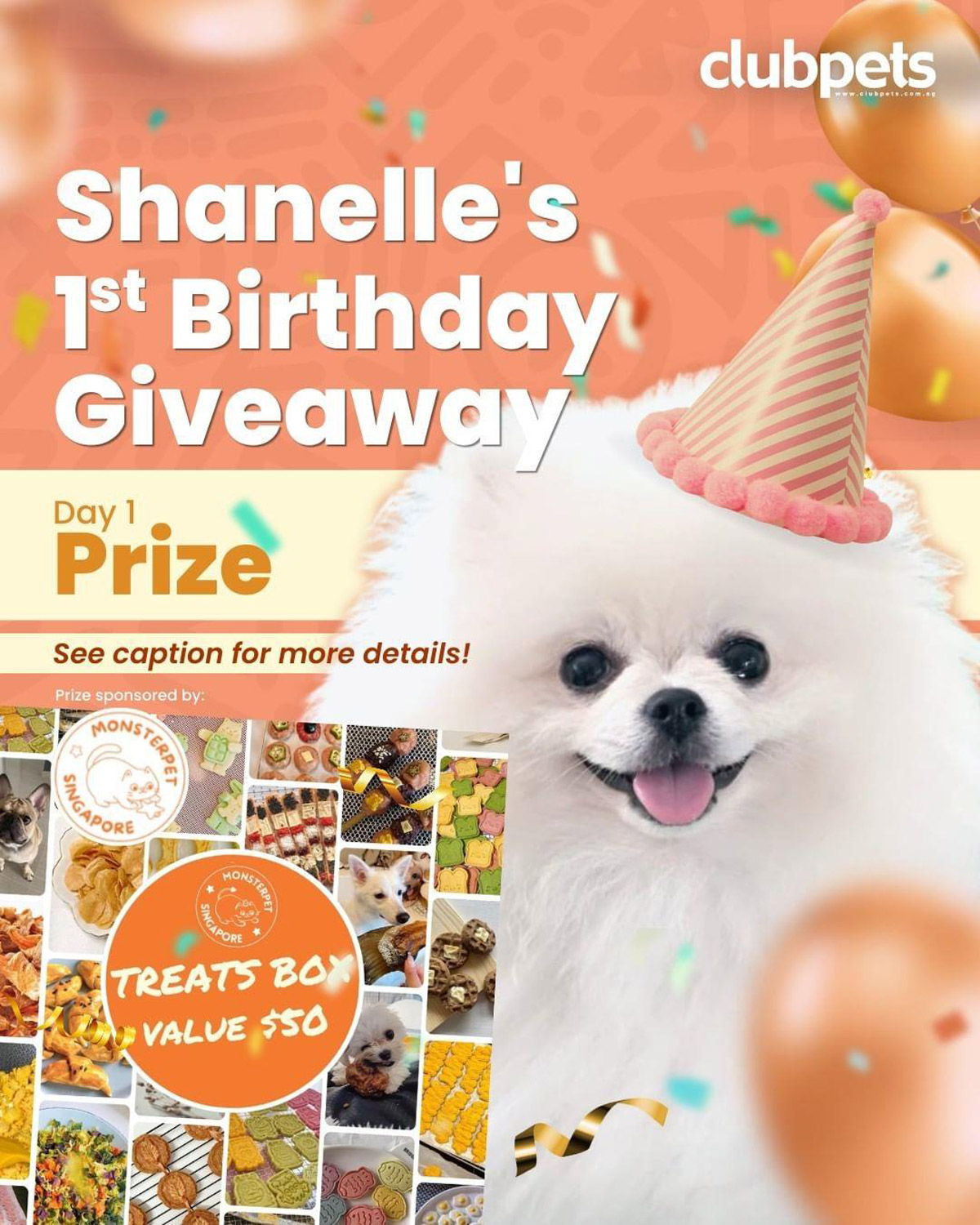 Day 2. Woofy Goofy's Snuffle Toys
Food and drinks aside, a birthday bash cannot be complete without a play area for the furkids!
One lucky winner got to take home a Merlion Snuffle Mat, which comes with multiple pockets to hide treats, as well as the Tom Yum Goong Hotpot Snuffle Plush, which contains a long cloth for storing treats. Both enrichment activities are great for alleviating stress, encouraging slower eating, providing mental stimulation and more, making for a productive playtime.
Learn more about Woofy Goofy
Website: woofygoofys.com
Instagram: @woofy.goofy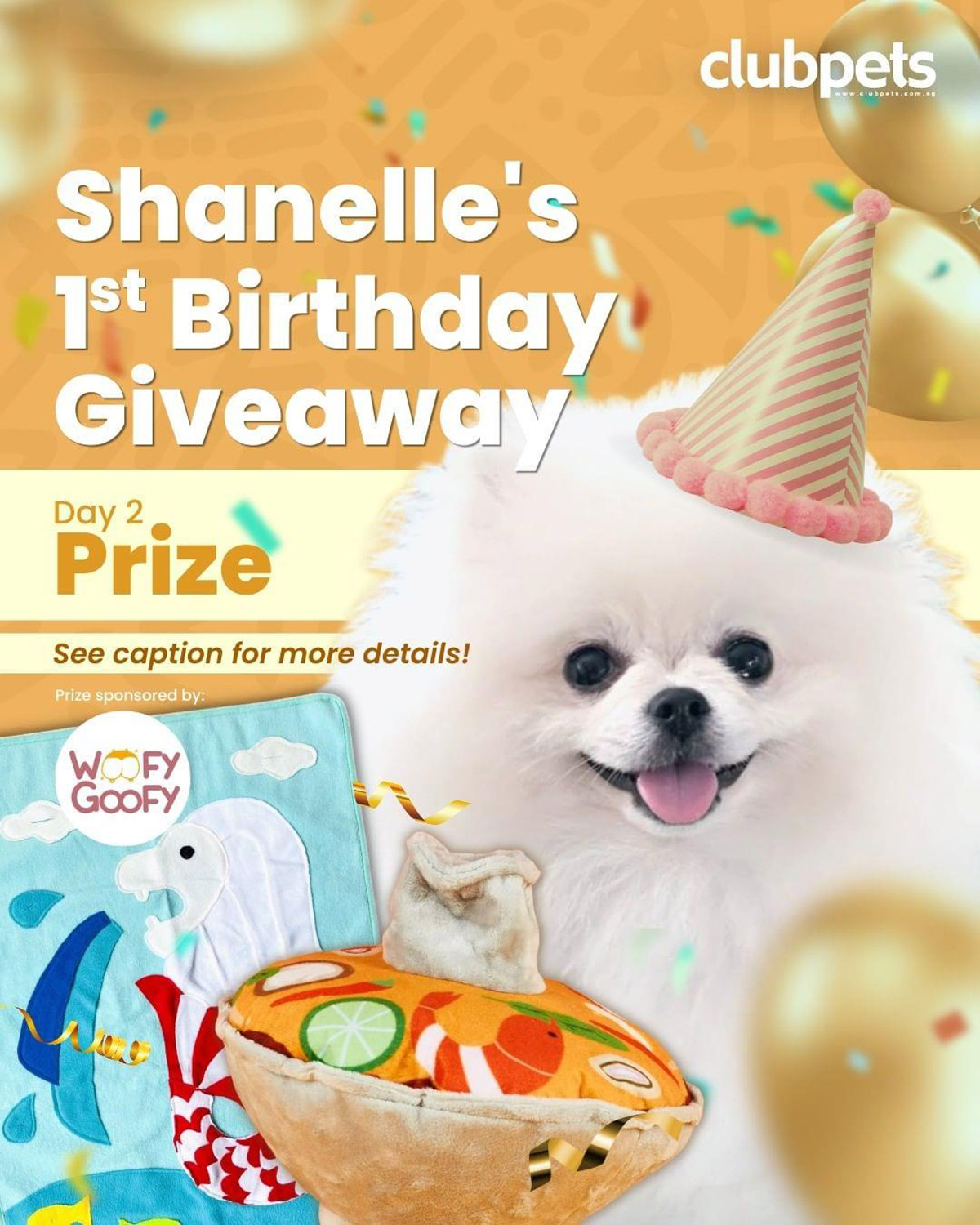 Day 3. For Furry Friends' Grooming & Hygiene Products
Before the feasting began, we cleaned our furkids' food bowls with the Pets Dish Foam, which removes that slimy residue, also known as biofilm, often left on the surface after meals. The product is made with minimum ingredients – electrolysed water and pure vegetable-based soap – but provides maximum efficacy, leaving us with a squeaky clean bowl.
In the spirit of sharing, three winners got their hands on the Pets Dish Foam, alongside the P.A.W.S (Pet Activated Water Sanitizer), P.A.W.S Wipes and Flea & Tick Repellent Spray.
Learn more about For Furry Friends
Website: forfurryfriends.com
Instagram: @forfurryfriends.sg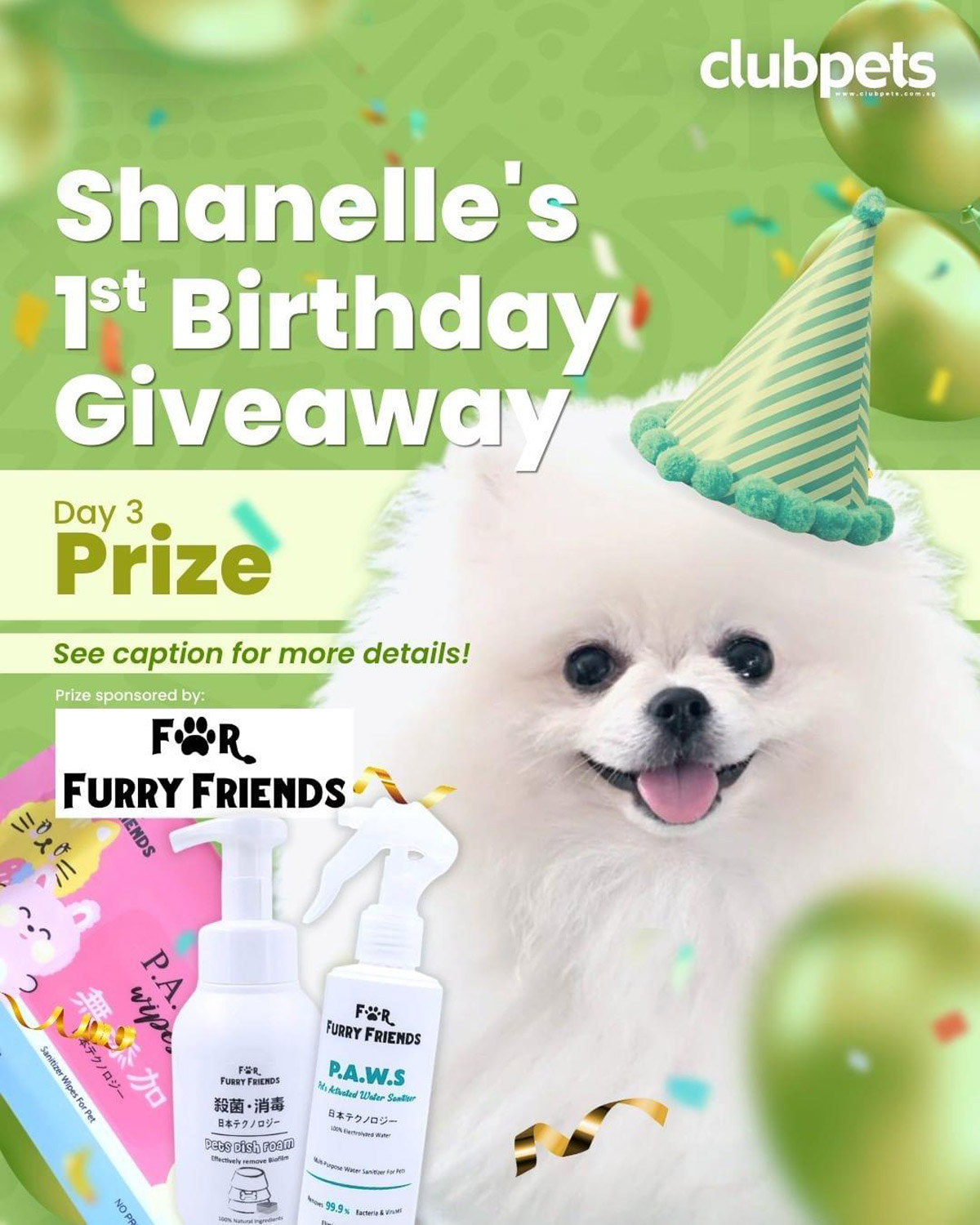 Day 4. Taki Pets' Flavourful Treats
Our furkids were delighted to indulge in some treats during the party. Since Taki Pets' individually packed snacks are perfect for gifting, we chose one lucky winner for the Surf & Turf Box, which comprises six packets each of the brand's two bestsellers: the King Salmon and Wagyu Steak.
Benefits include a shinier coat, reduced risk of arthritis, and improved metabolism and energy for the former, and improved cardiovascular health and lowered cholesterol levels for the latter, so your furkid can start the prep for their upcoming pawty!
Learn more about Taki Pets
Instagram: @taki.pets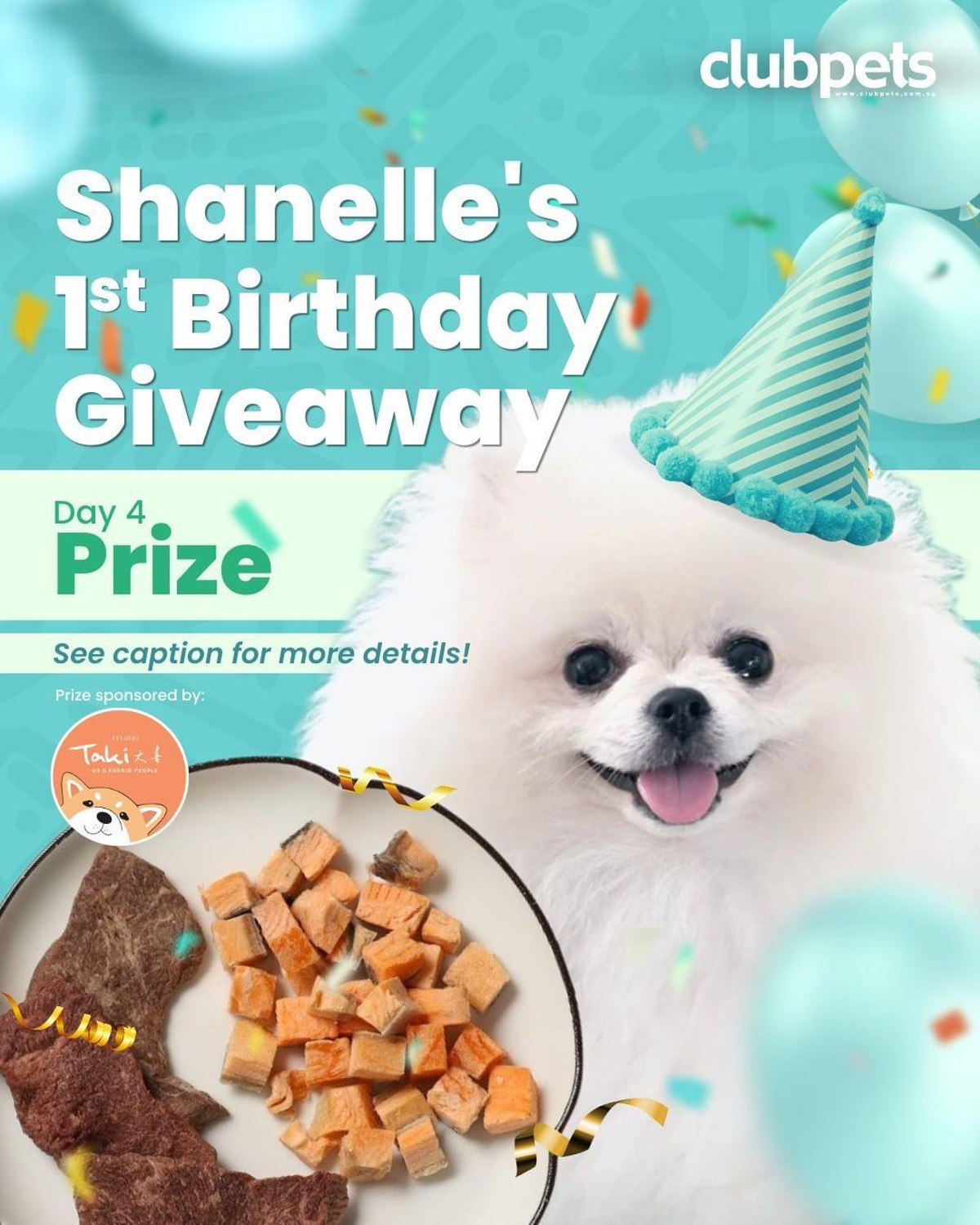 Day 5. Amber Art Gallery's Digital Artworks
Shanelle's clay head is sitting in our office as a memento, but three of our lucky followers also won a souvenir in another form – a pop-art style digital portrait! Amber Art Gallery's pop-art paintings are defined by clean lines and solid colours, capturing the personality of your pet and adding a contemporary keepsake to your interiors.
Simply send a photo to them and receive your customised artwork within four weeks. Plus, their friendly team will accommodate requests for adjustments or revisions to ensure you're truly satisfied!
Learn more about Amber Art Gallery
Website: amberartgallery.sg
Instagram: @amberartgallerysg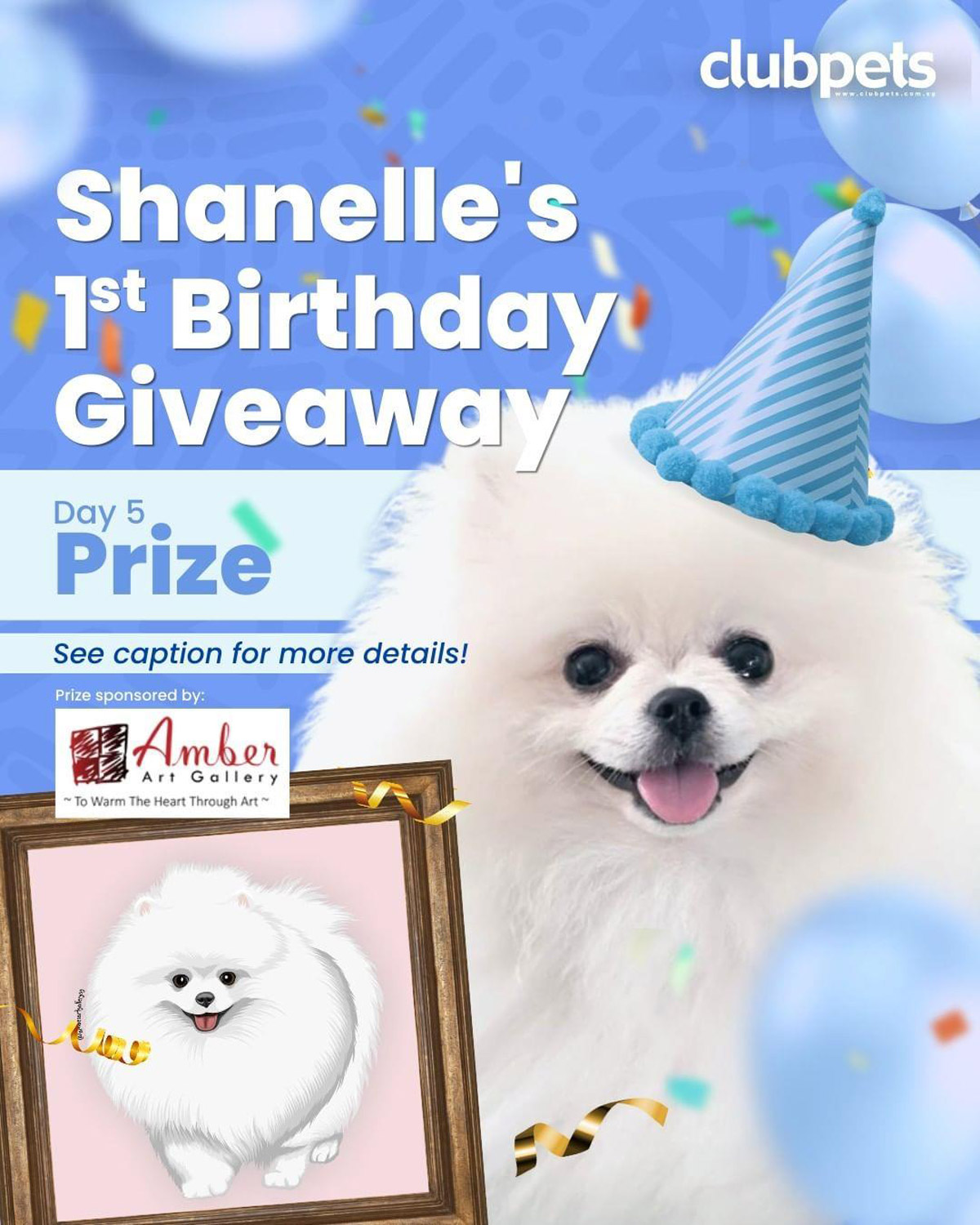 Day 6. Noble Advance's Party Pack
Complete the pampering with a grooming sesh! Three of our followers won a party pack with goodies from different brands, sponsored by distributor Noble Advance.
Want to know more? Here's how you can introduce routine care to your dog's everyday life. Start with the Vorous Grooming Finger Wipes, which are all-in-one wipes for the teeth, eyes and ears. Follow up with the Bioion Pets Pounce Sanitizer, which eliminates bacteria and protects your pet against virus infection. Finally, finish with the Vorous Recipe Kibbles for everyday meals that are coated in human-grade oils and fats.
Learn more about Noble Advance
Website: lazada.sg/shop/noble-pets
Instagram: @nobleadvance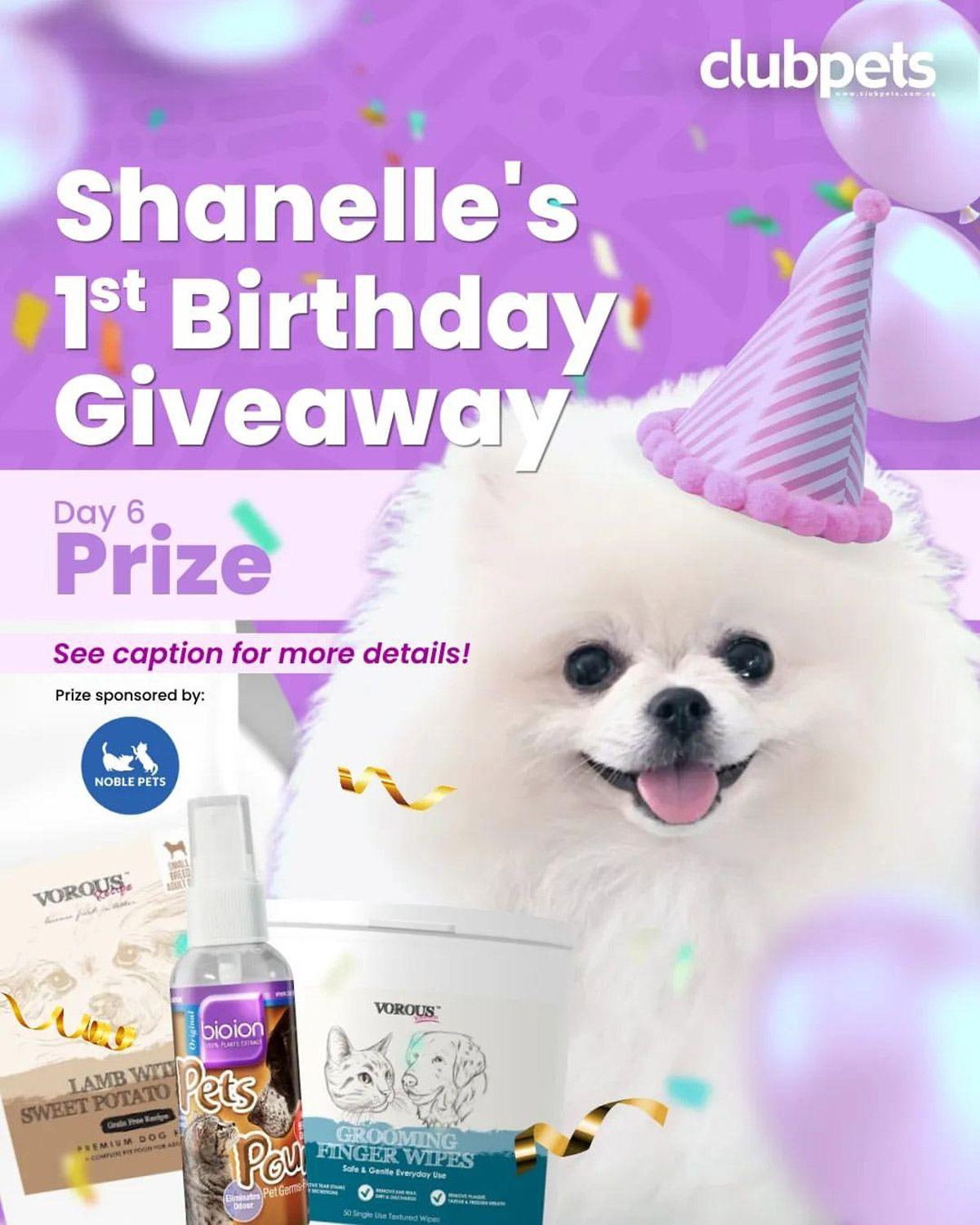 Day 7. Fur Buddies' Event Photography
Our last winner won their furkid a chance to be the star of a one-hour photoshoot session by Fur Buddies.
Looking back on the photos we took at the birthday bash, we could feel the palpable excitement in the air – oh how we wish to relive those moments! And we're sure our winner would be able to for their photoshoot, with the 10 photographs to keep as eternal memories!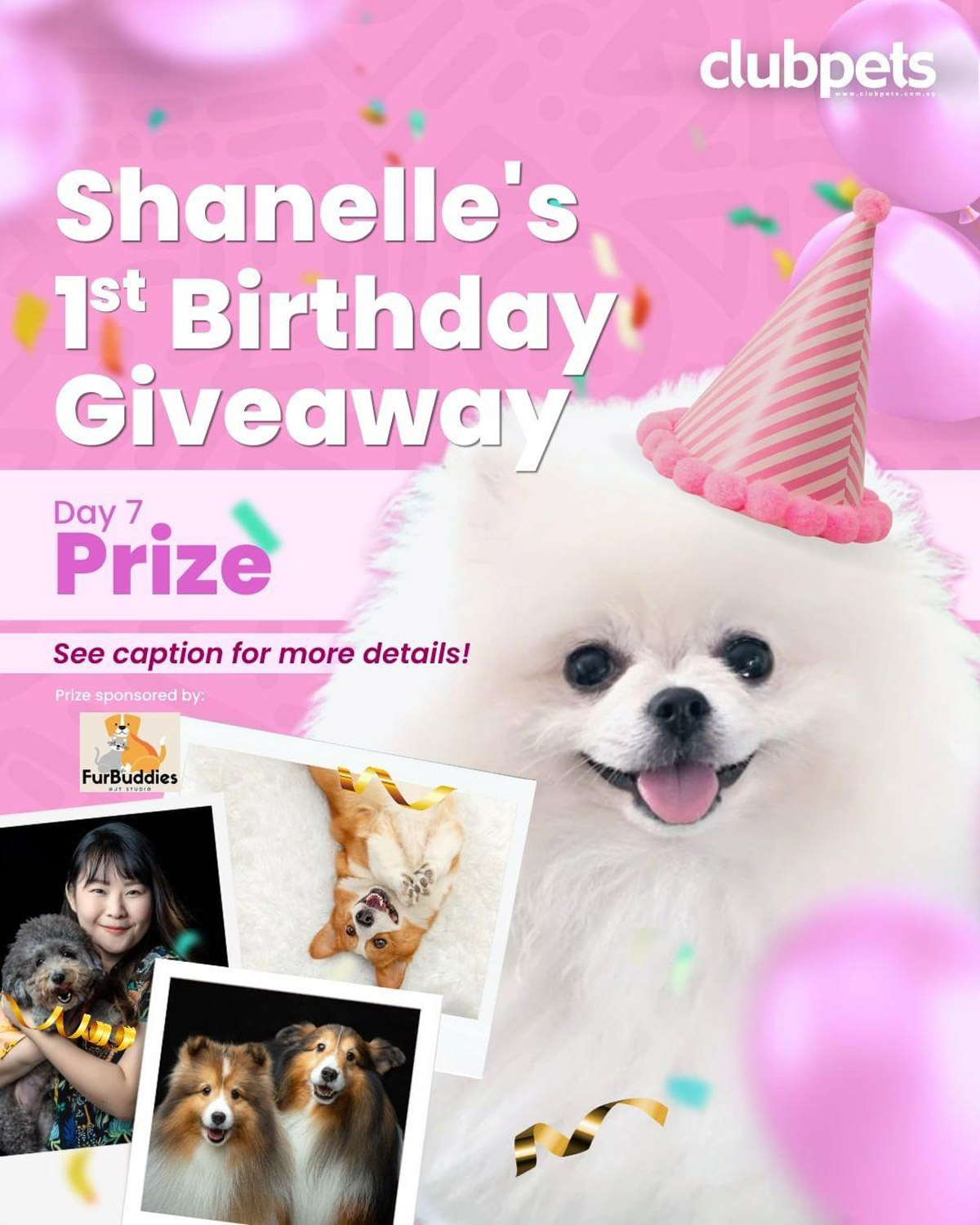 Learn more about Fur Buddies
Instagram: furbuddies_jtstudio