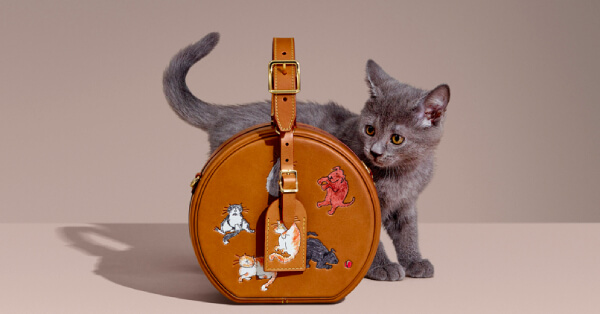 Source: Louis Vuitton
Animal and fashion lovers will have kittens over Louis Vuitton's collaboration with Vogue's former Creative Director, Grace Coddington. Working closely with Louis Vuitton's Creative Director, Nicolas Ghesquière, the two poured out their love for animals in the Louis Vuitton X Grace Coddington 2019 capsule collection. The line takes high fashion to new heights, with Coddington adding her own iconic flair to the brand's monogrammed style. More than just the artistic collection of two fashion geniuses, this collection is inspired by the love for animals and is purrfect for anyone who is fond of our furry four-legged pals.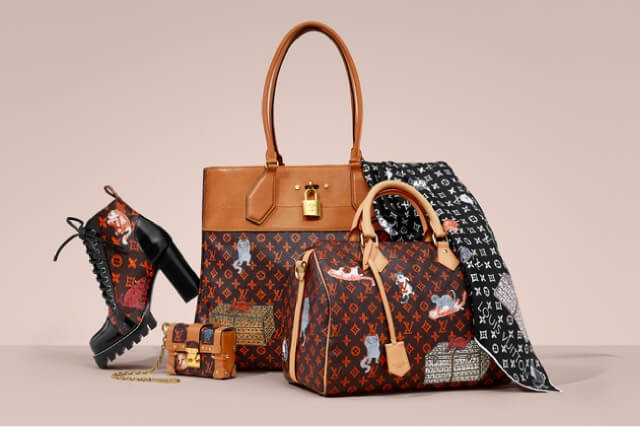 Source: Louis Vuitton
Featuring Coddington's two cats, Pumpkin and Blanket, and Ghesquière's dog, Léon, as well as a playful assortment of cats, dogs and mice, the fun design has been claw-verly christened Catogram by the luxury brand. Both Coddington and Ghesquière declare themselves animal people who appreciate the source of love, comfort and joy that their pets are to them. In stores since November 2018, here are some of the more a-meow-zing highlights from this collection.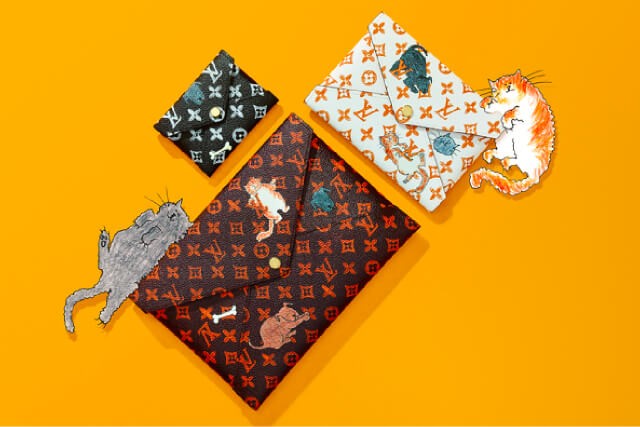 Source: Louis Vuitton
The Pochette Kirigami three in one pouch gives you three iconically monogrammed pouches in varying sizes and colours, with the added Catogram designs of adorably drawn felines and canines.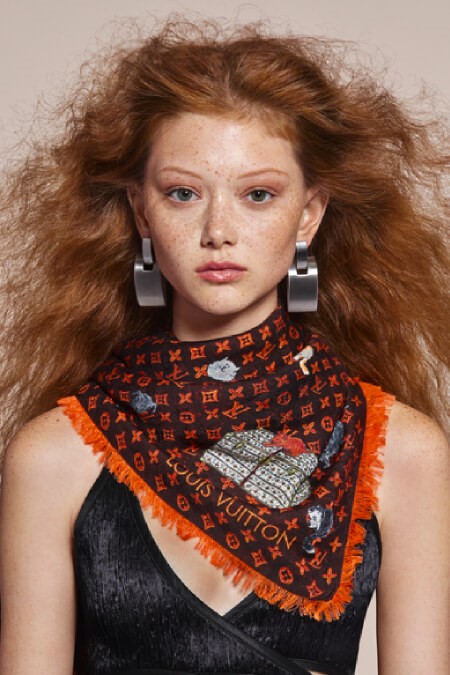 Source: Louis Vuitton
Adding a whimsical and classy touch to any outfit is the Catogram Square which shows a liberal sprinkling of Coddington's kitties and puppers. Also available in black, wear this as a scarf or use it as a hair accessory, tie it onto a bag or around your wrist, the possibilities for this versatile fashion accessory are endless. Having debuted on the runway, the square is 100% silk with a contrast hand-rolled finish, making it a stylish addition to your wardrobe.
Apart from the squares, the collection carries ready-to-wear pieces such as a shirt and skirt, or a cardigan or pullover should you like to look fashionable even in chilly weather. Otherwise, opt for the Catogram Motif Printed Pyjamas Top and Pants which are made of fluid silk twill for your lounging pleasure. Be delighted with the attention to detail as the cat and dogs adorning the pyjamas are accompanied by Monogram canvas buttons and white piping for the top and Monogram canvas drawstring ends for the pants.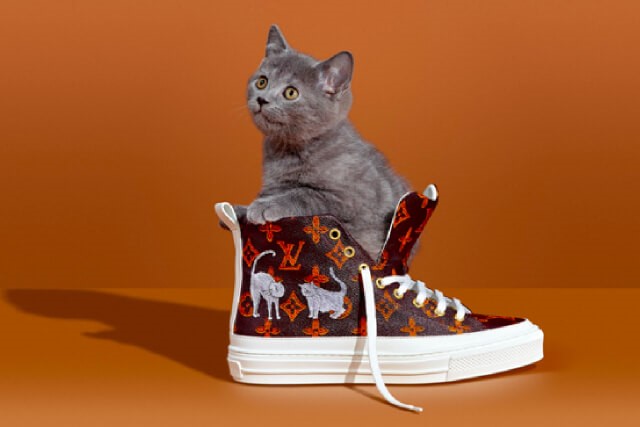 Source: Louis Vuitton
For those more concerned with being well-heeled, they can get their paws on special edition footwear such as the Stellar Sneaker Boot which has the paw-fully cute designs on the Monogram canvas. Alternatively, opt for the Laureate Platform Desert Boot for a more outdoorsy look or the Star Trail Ankle Boot to achieve that grunge chic aesthetic.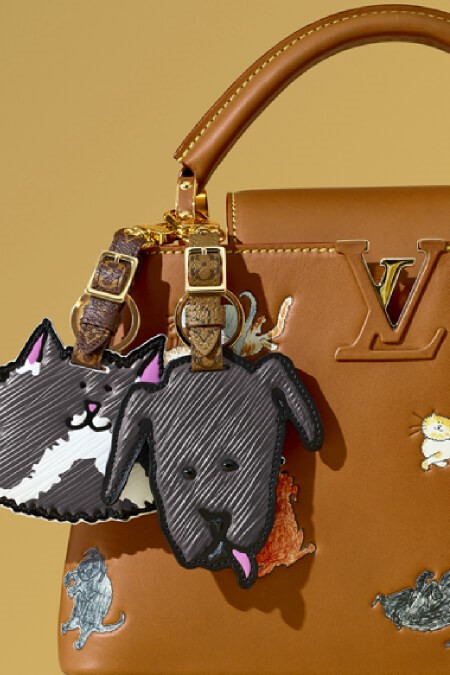 Source: Louis Vuitton
Those who wish they can bring their best fur-iends everywhere can now do so with these brilliantly designed handbags, cardholders and charm holders that allow you to tote the furballs around with you. It doesn't matter if you need a casual bag for the weekends – a tiny trunk for just your essentials or a charm that doubles up as a key holder, you can surely find one bearing Coddington's endearing doodles.
Whether or not you're a dog or cat lover, in the face of this adorable capsule collection, you have to admit that you might just be an animal person. For some high fashion infused with a love for all that is furry, get a taste of the Louis Vuitton X Grace Coddington collection right meow!