Herbal relief, pampering spas, and extra skin and coat TLC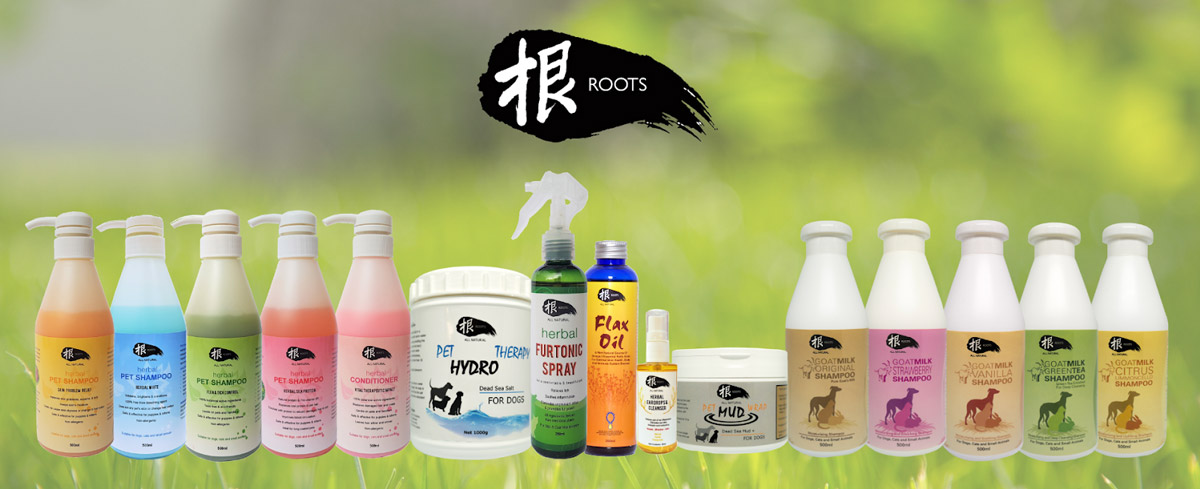 When fancy packaging and marketing campaigns are stripped aside, what genuinely makes a product good comes to light – high-quality ingredients. A firm believer than the best shampoo and skincare products consists only of high-end, wholesome ingredients and value-adding natural herbs, Roots Technologies pride themselves on their honest-to-goodness pet wellness range, which caters to pets of all age and needs. 
Whether you just got a pup, have a critter with skin allergies, or simply want to pamper your pooch during bathtime, read on to find out which Roots Technologies range best suits you! 
Herbal Range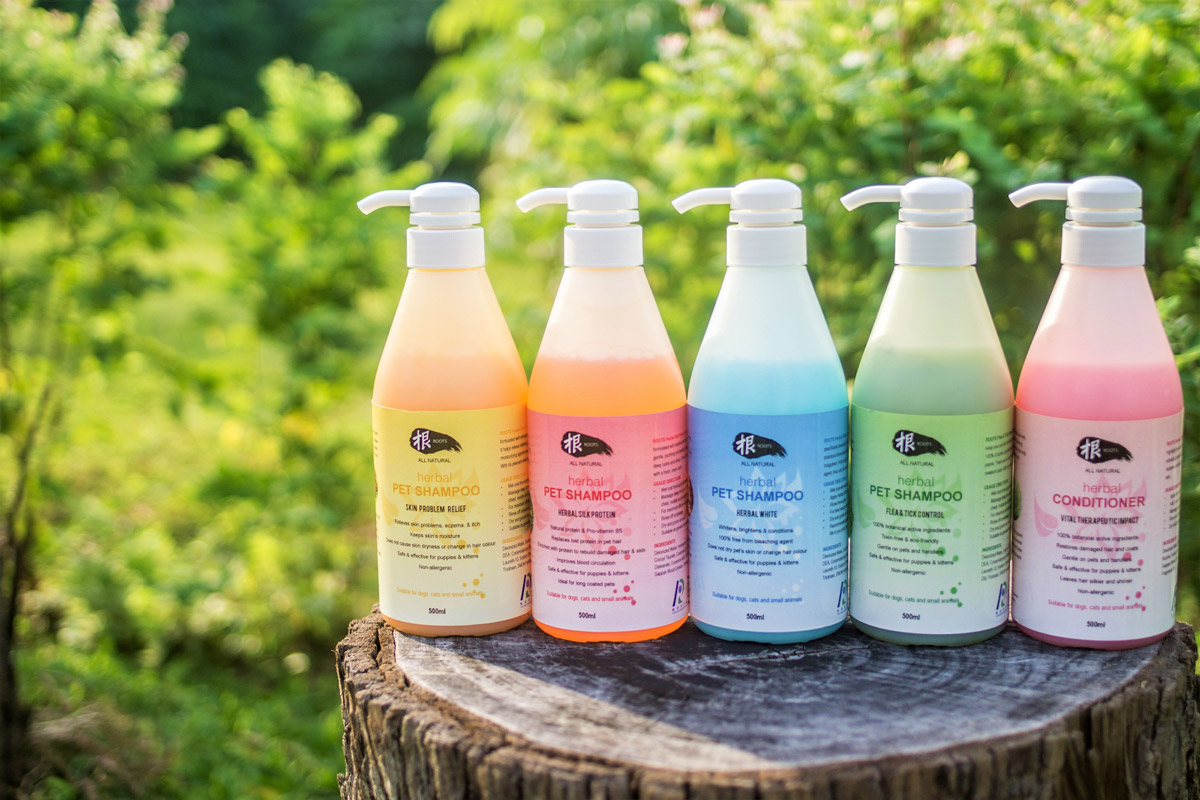 Suitable for dogs, cats, puppies, kittens, and even small animals, Roots GEN Herbal Shampoos are safe, non-toxic, and non-allergic. With 100% of the active ingredients derived from natural plants extracts, pet owners can use this herbal range regularly as a general shampoo without worrying about it being too harsh on your pet's skin! 
There are 4 types of shampoos and 1 conditioner, each made from different herbs to suit different skin requirements:
Herbal Skin Problem Relief Shampoo

Herbal Flea & Tick Shampoo

Herbal White Shampoo

Herbal Silk Protein Shampoo

Herbal Therapeutic Conditioner

Their best-seller is the Herbal Skin Problem Relief Shampoo, because with the hot and humid weather here in Singapore, many pets' pores often open and become susceptible to gathering dirt, oil, and allergens. This results in problems like skin breakouts, eczema, and allergic reactions, and frequent baths with harsh shampoo will only serve to dry out and further irritate the skin.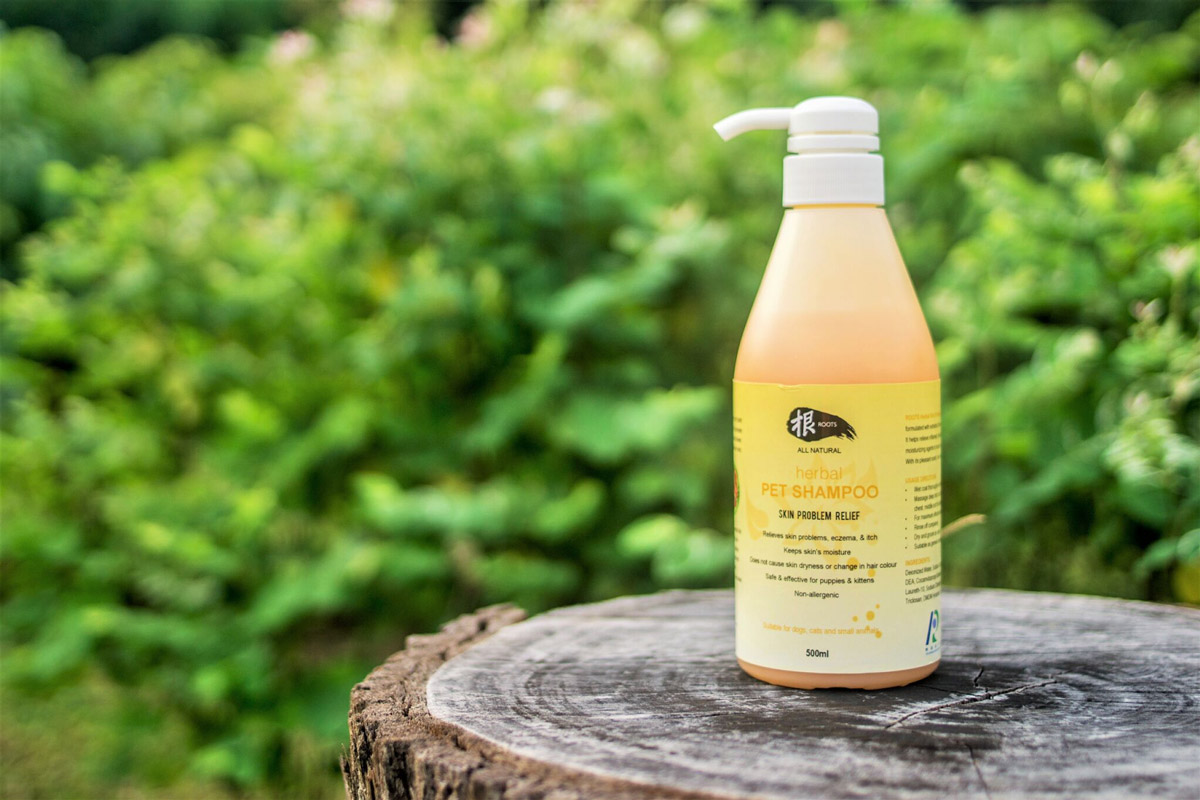 Instead, if your pet scratches often, give their Herbal Skin Problem Relief Shampoo a try. Formulated with moisturising agents and natural Turmeric, Sea Holly, and Phaya-Yor (Snake Plant) extracts, this best-seller will help with skin irritation, inflammation, and soothe itchy, sensitive, and chronic dry skin!
Spa Range: Goat Milk and Dead Sea Extracts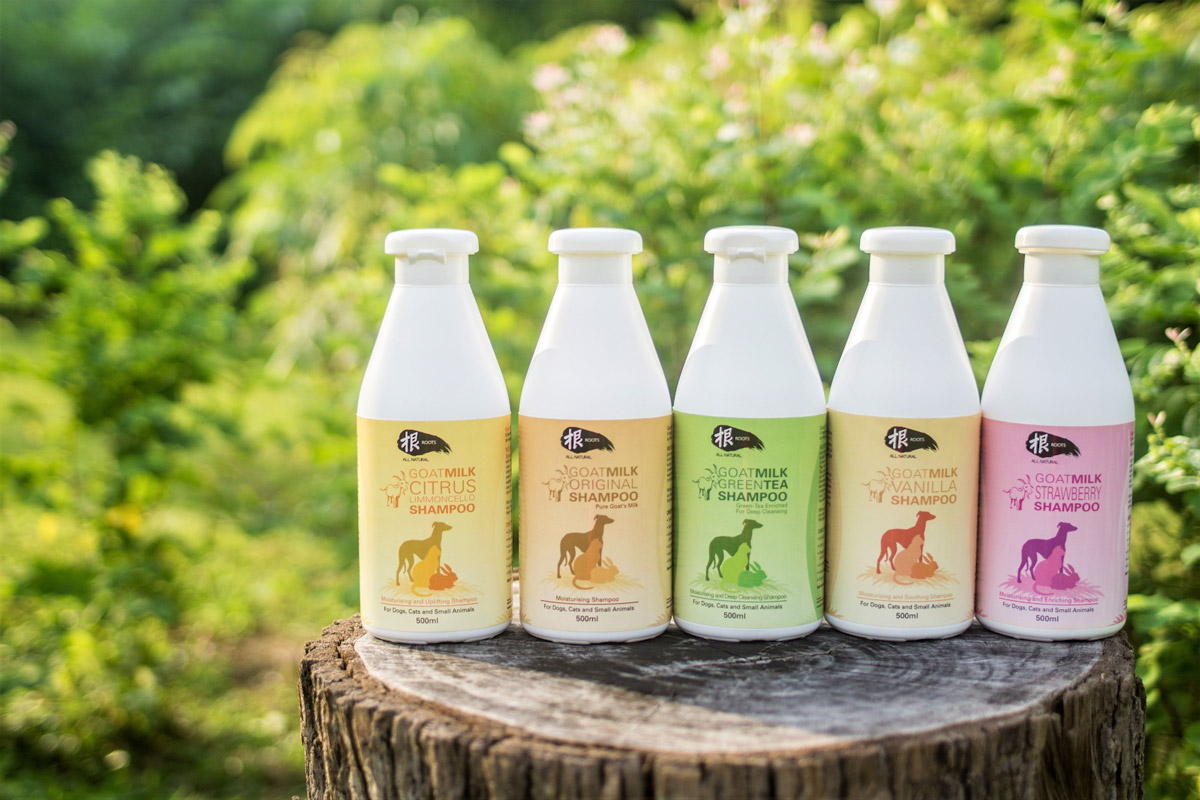 For those of you who wish to pamper your pet with a relaxing in-home spa session, Roots Technologies' spa range is perfect for that! Made with goat milk, a natural emollient and one of nature's finest moisturisers, as well as luxurious salt and minerals from the Dead Sea, there are a total of 5 Goat Milk Shampoos and 2 Dead Sea spa products: 
Goat Milk Original Shampoo

Goat Milk Green Tea Shampoo

Goat Milk Citrus Shampoo

Goat Milk Strawberry Shampoo

Goat Milk Vanilla Shampoo

Pet Mud Wrap (Dead Sea Mud)

Pet Hydro Therapy (Dead Sea Salt)

Thanks to the goat milk, the shampoos all have a rich creaminess to it that feels like an extra indulgent treat on your pet's skin. Perfect for pets with dry or sensitive skin and skin conditions such as eczema and psoriasis, the Goat Milk Shampoo range will not only keep your pet's skin healthy and supple, but also give its coat a silky, shiny sheen.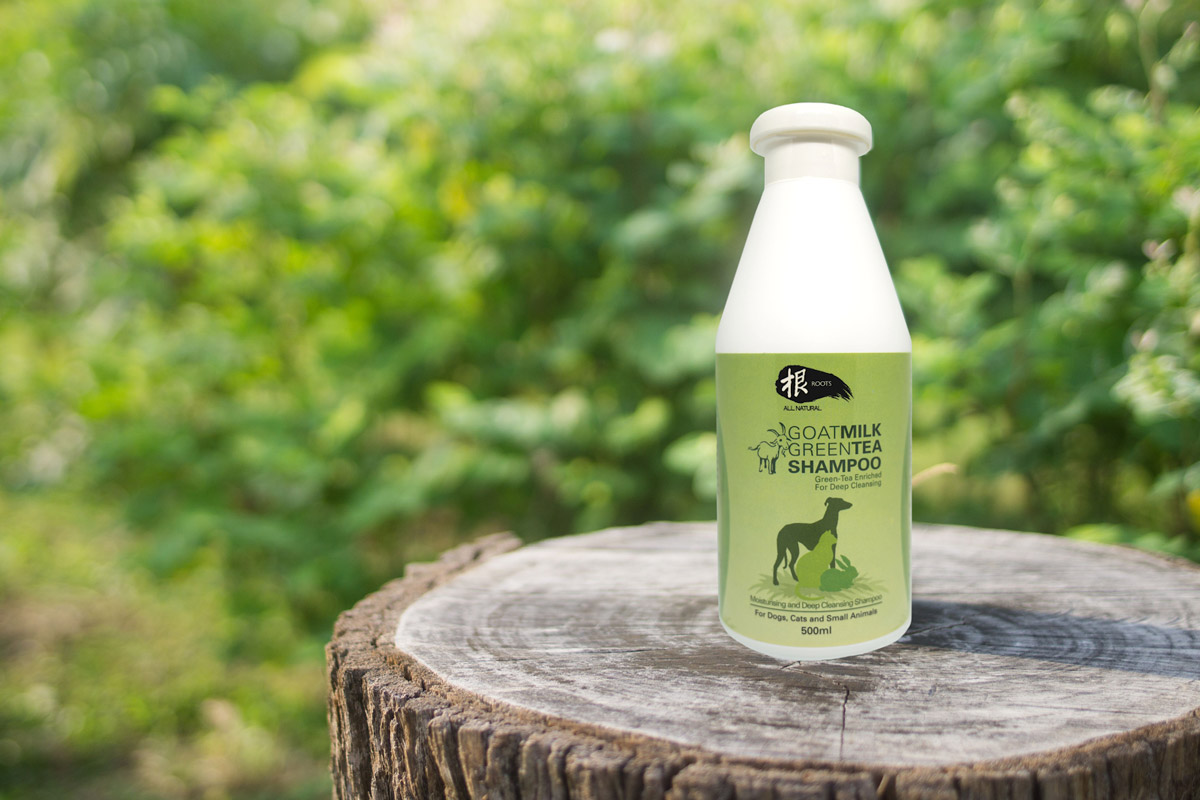 Each comes with its unique aroma and spa qualities to cater to a variety of preferences too. For something that cleanses and purifies the skin, the Goat Milk Green Tea Shampoo contains catechin, a powerful natural anti-oxidant that helps to eliminate deep-seated toxins and prevent skin cancer.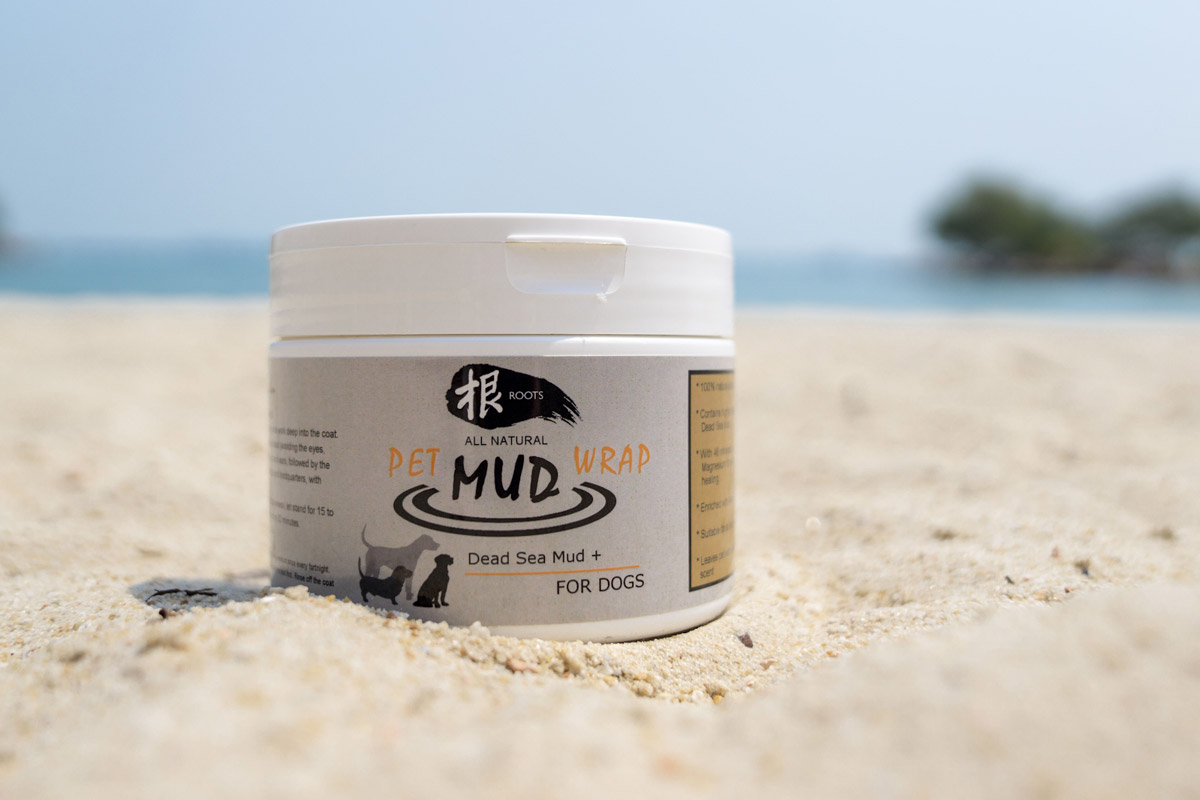 On the other hand, the Dead Sea is a remarkable natural phenomenon that has salt content almost 10 times higher than any other ocean. It contains extra minerals from the seabed and thermo-mineral springs, and the Dead Sea mud has been known to help nourish and revitalise the skin and eliminate excess oil, amongst many other therapeutic benefits.
Naturally, Roots Technologies' Dead Sea Mud will help to make your precious critter's skin look younger, feel fresher, and generally leave your pet feeling more relaxed than ever. All you need to do is to wet your pet's coat and massage the mud into their skin for 15 – 20 minutes before washing it off thoroughly. Make sure to not leave the mud on the skin for more than 20 minutes! 
Skin and Coat Solution Set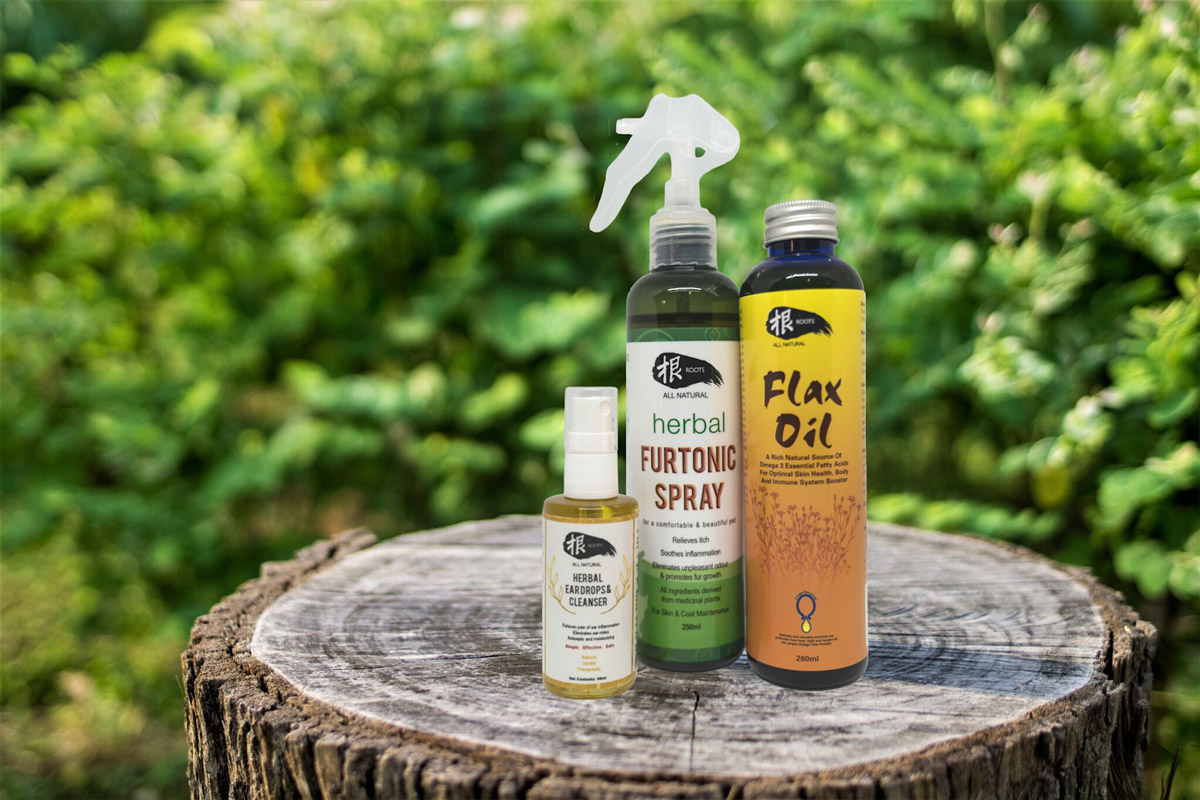 Apart from shampoos and spa products, Roots Technologies also has a range of holistic skin wellness products for pets who require extra TLC (tender loving care) care for its skin. These Skin Wellness products not only provide support for the pets' skin and coat, but also targets both their internal and external well-being:
Herbal Furtonic

Herbal Eardrop & Cleanser

Roots Flax Oil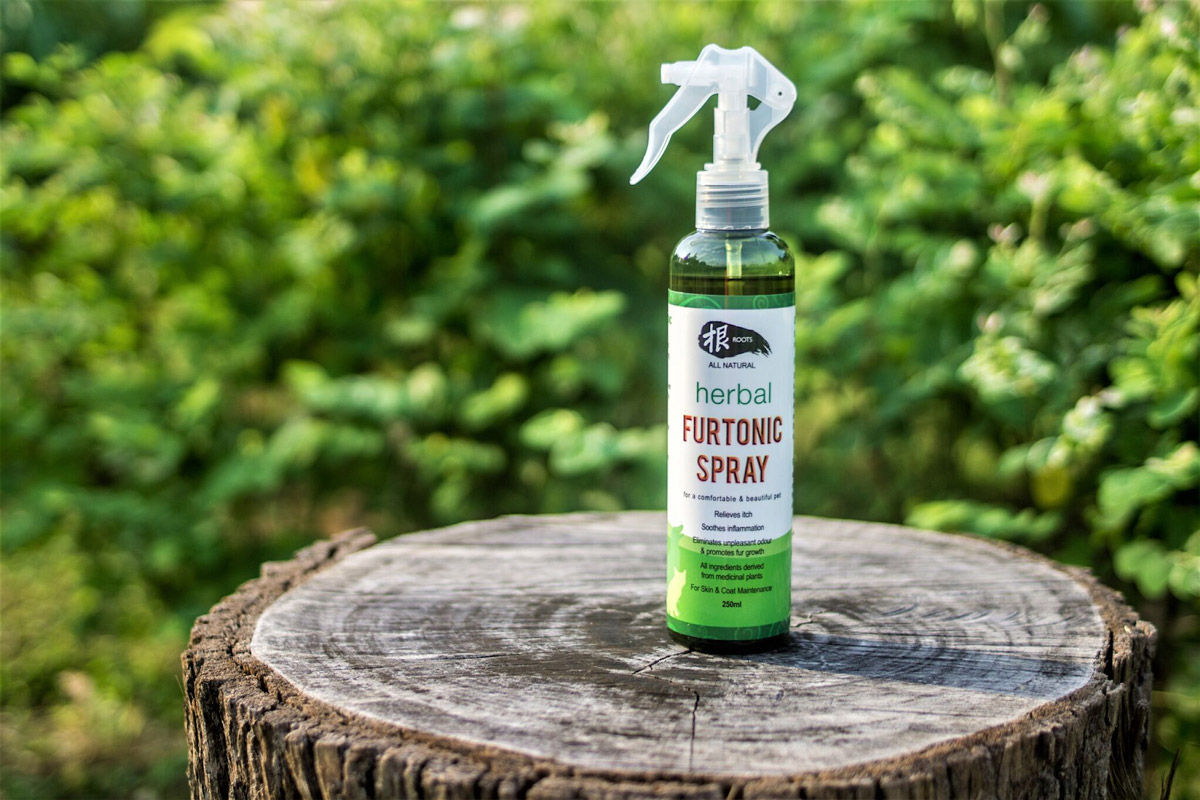 Completely human-grade and safe for both pets and their owners to use, the Roots Herbal Furtonic is a skin and coat tonic spray that contains a whopping 7 different types of herbs. Besides helping to eliminate itchy skin and relieve all forms of skin rash, allergies, abscesses, fungal disorder, inflammation, and minor cuts and scrapes, it also promotes fur growth and facilitates healthy tissue granulation of skin without excessive fibrosis! 
Free Trial Pack Giveaway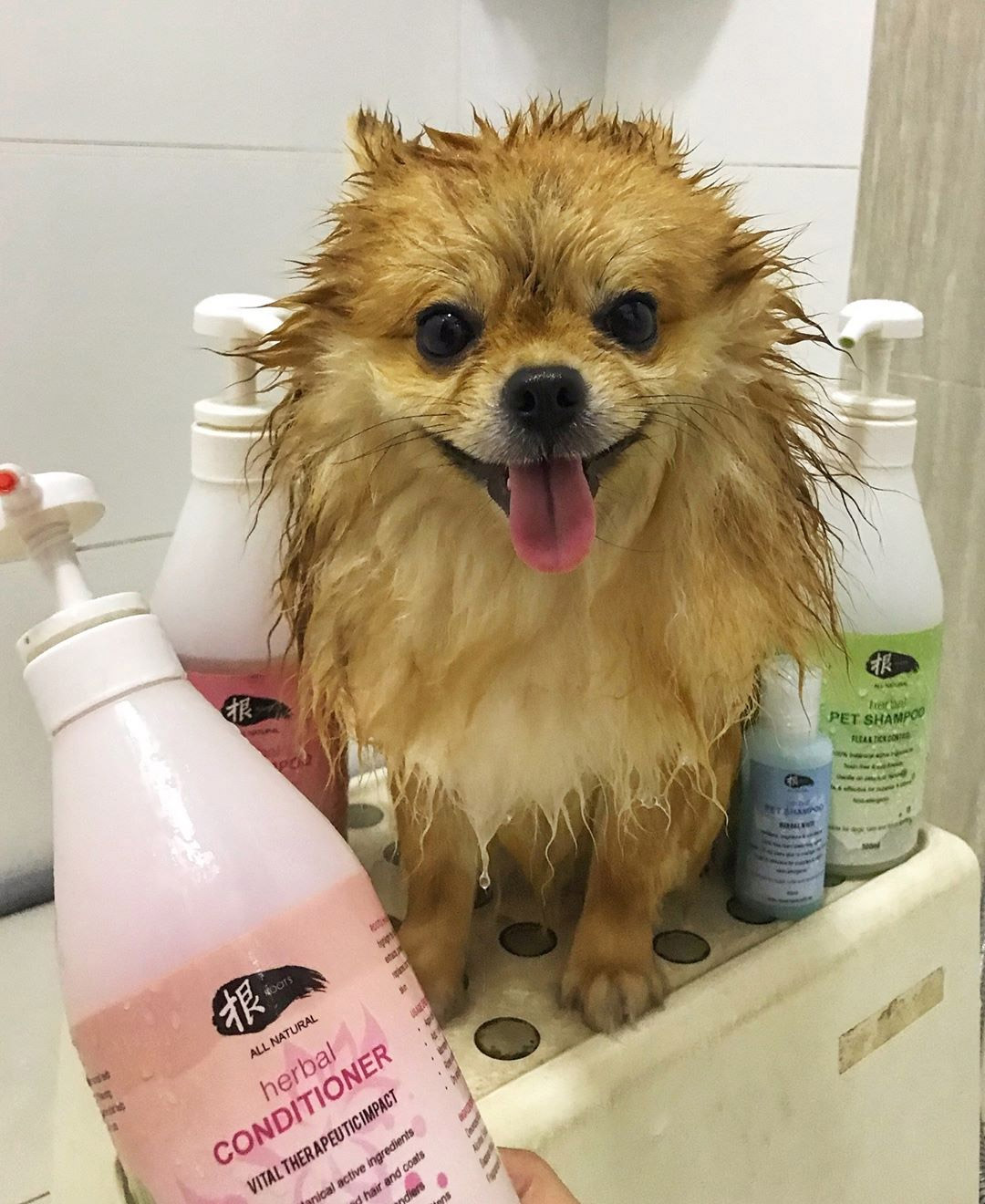 Source: @roots_technologies_sg and @lattethepomeranian
Actions speak louder than words, so if you're not fully convinced, Roots Technologies is giving away free trial packs* (worth $103 each) for you to see the results for yourself! 
To win this free trial pack, all you have to do is to:
Count the number of products that appeared in this article

Comment your answer on our Facebook post here

Like and share the Facebook post. 
There will be a total of 3 winners, and each trial pack will include:
GEN Herbal Skin Problem Shampoo (500ml) x1

Goatmilk Green Tea Shampoo (60ml) x1

Roots Herbal Furtonic (250ml) x1

Roots Flax Oil (260ml) x1

Herbal Ear Drop & Cleanser (60ml) x1

Dead Sea Mud (100g) x1

Dead Sea Salt (40g) x1

The giveaway ends on 6th September 2019, 23:59, so you better act fast and count the number of products featured in this article carefully! Good luck!
*Terms & Conditions:
– Winners are required to self-collect the trial pack at Roots Technologies Office
– Winners will be contacted by 15th September 2019 via Facebook Message.
Address: 83 Genting Lane, #04-01, Singapore 349568
Collection Hours: Mon – Thurs: 10AM – 5PM | Fri: 10AM – 4PM | Avoid 1PM – 230PM
Telephone: 6283 6330