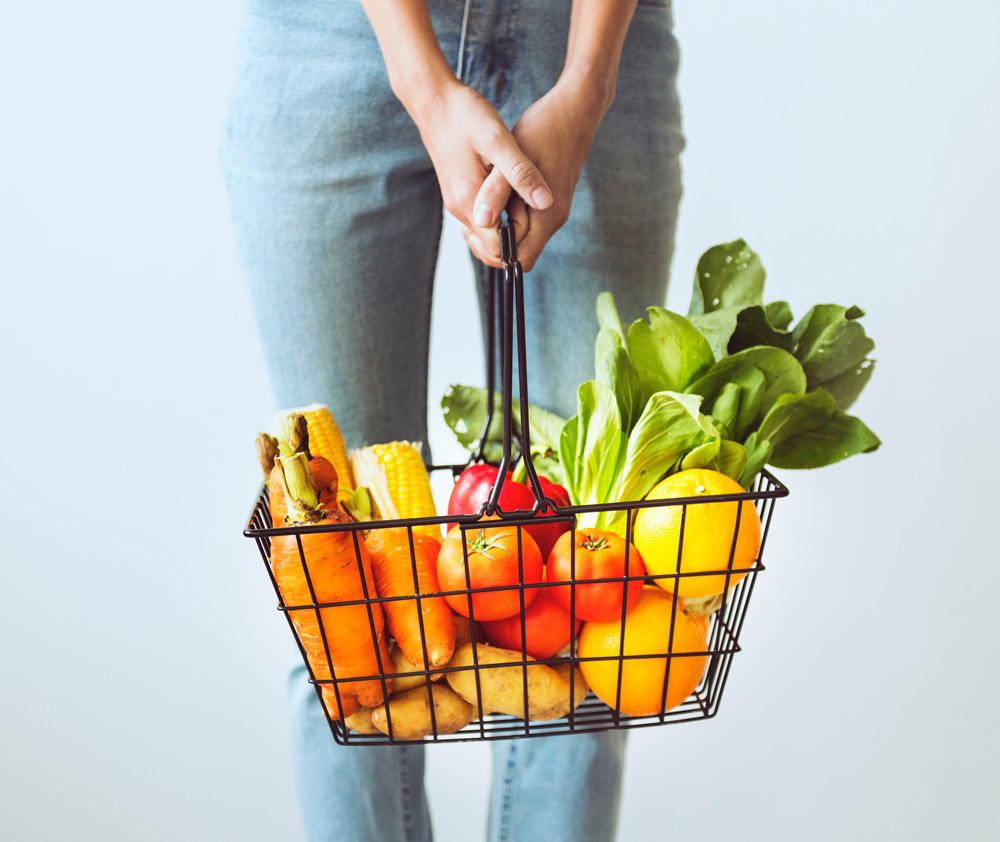 From grain-free treats to human-grade ingredients, it is only natural for all pet owners to invest in the best food for their pets. Sharing this vision is Sproutfore, Singapore's first online farmer's market.With over 52 merchants, Sproutfore aims to bring the freshest and healthiest produce to the local food scene in Singapore. In addition to fruits and vegetables, the platform also offers baked goods, dairy products and wines – ensuring a well-rounded online grocery experience for consumers.

Sproutfore is the brainchild of Kenneth Tan, who founded the business in 2017. Inspired by his love for eggs, Kenneth had noticed the superior quality of cage-free and hormone-free eggs when studying in Australia. Coupled with his interest in the food and beverage industry, Kenneth then embarked on the journey to educate consumers on the importance of food quality.

The online farmer's market offers only the freshest products. Produce such as vegetables and fruits are only harvested on the day of delivery while confectionaries are baked to order. At the same time, consumers can learn more about the source of their produce through the merchant's profile page that is listed on Sproutfore.

But we aren't the only ones to benefit from consuming the freshest produce. With raw and fresh diets for dogs becomingly increasingly popular, many dog owners are opting to prepare meals for their furry companions, making the choice of ingredients all the more important.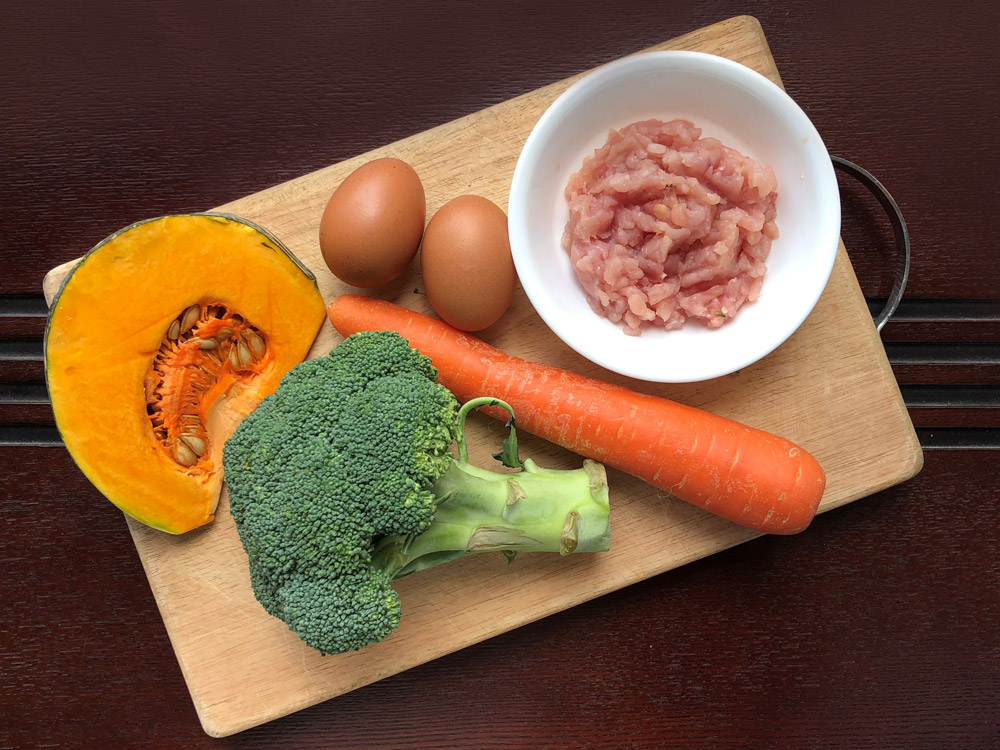 Ingredients for the Modern Standard recipe.
The proud owner of Frosty, the adopted one-year-old poodle, Kenneth is a firm believer in using only the best ingredients for his furry friend. "Organic food is definitely something we look into when making meals from scratch for Frosty. Especially when it comes to raw food diets, we want to make sure that the meat we use is free-range and hormone-free just so that he is consuming only the best quality," says Kenneth.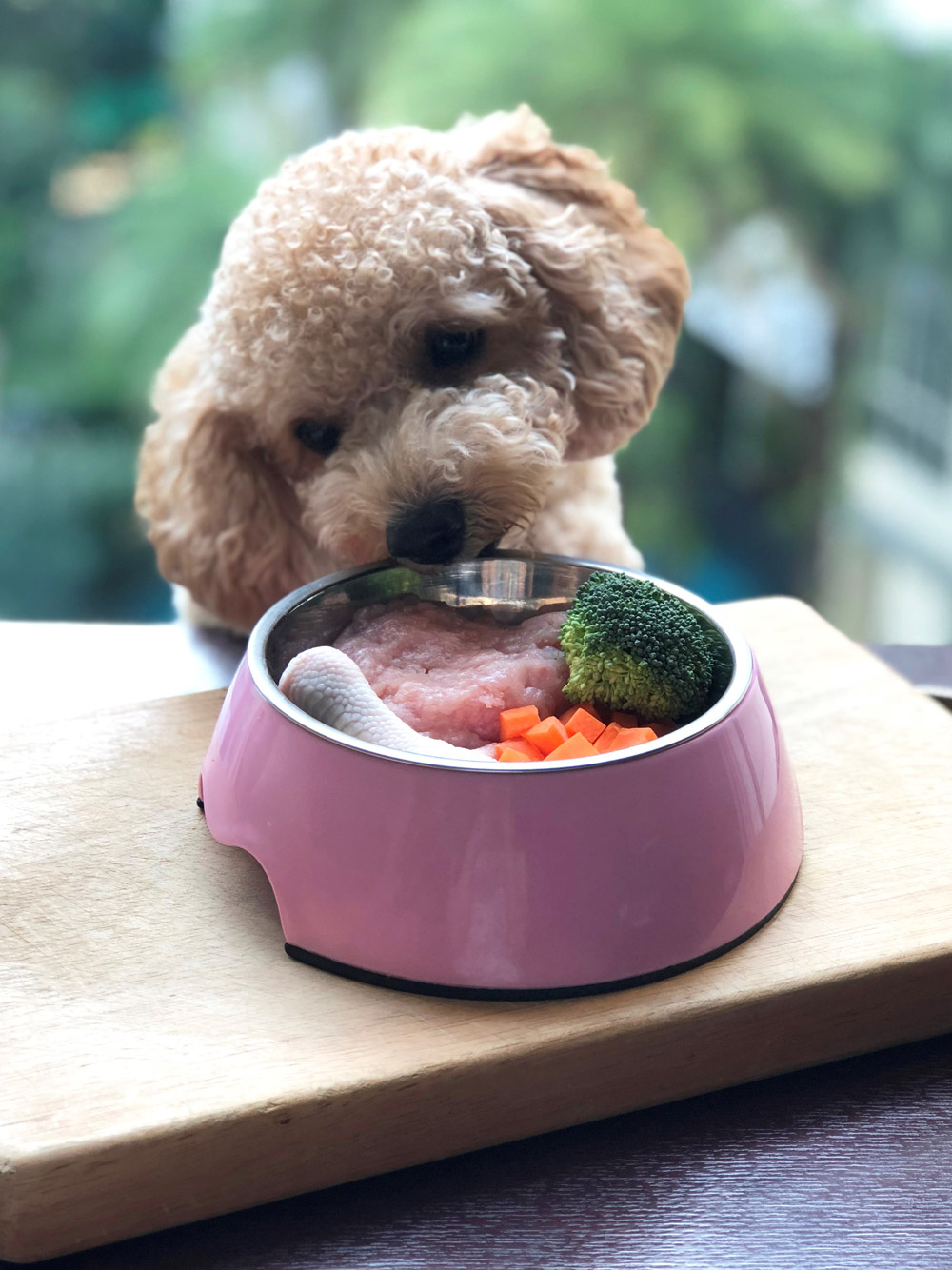 Frosty waiting to dig in.
Besides his love for chewing on chicken feet and rib bones, Frosty is also a fan of meats. "We do prepare raw meals such as lamb and beef for Frosty on occasion, as this helps clean teeth and promote fresher breath," Kenneth explains.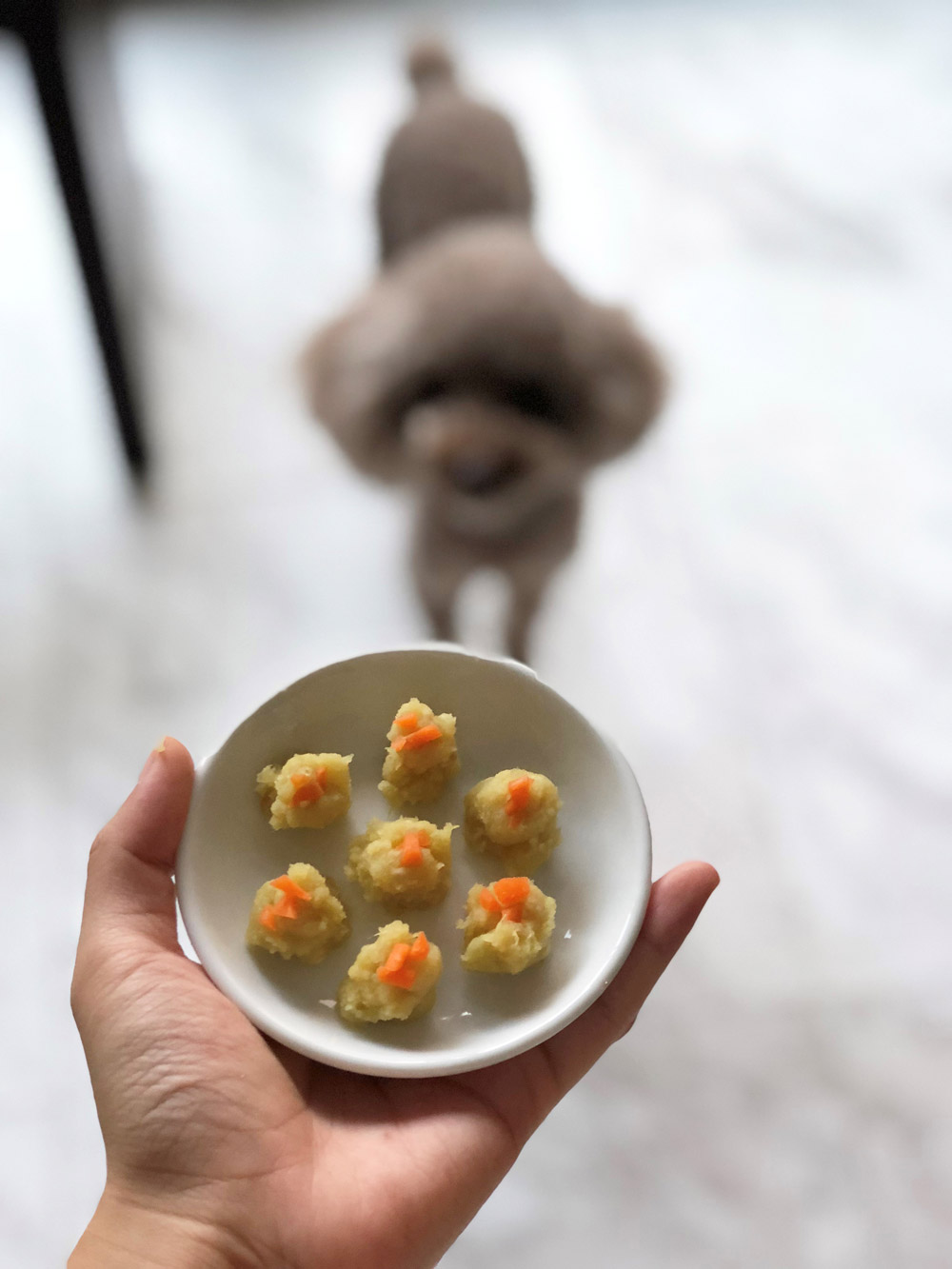 Siew Mai for Frosty.
In promoting the benefits of raw diets for dogs, listed below are three grain-free and tasty recipes that dog owners may wish to try out:The Modern Standard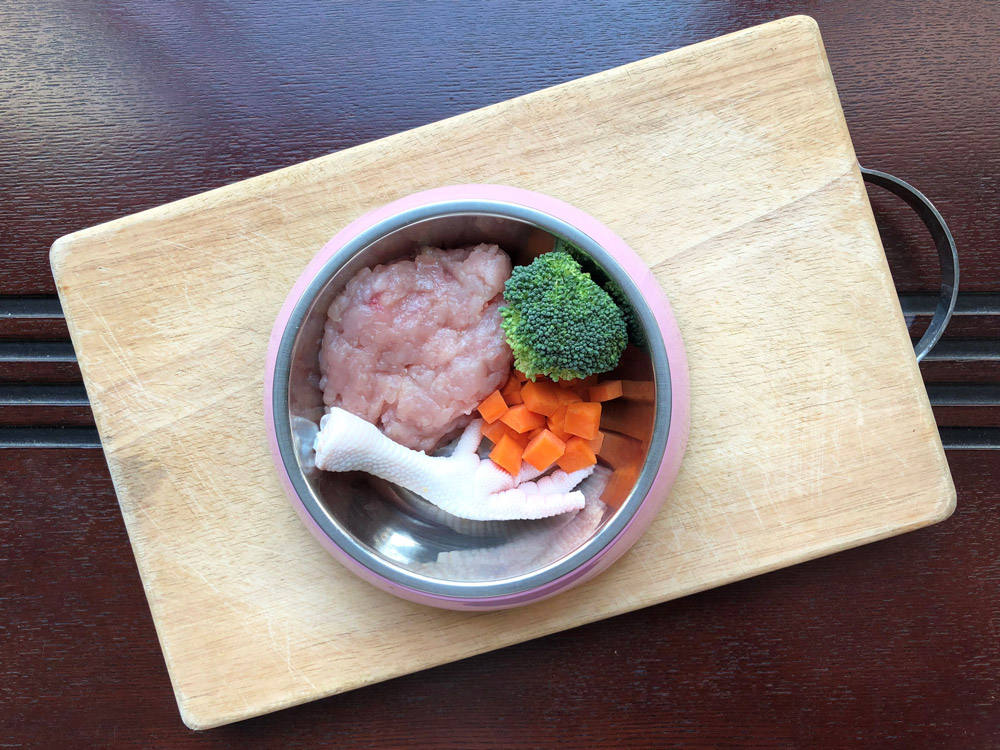 Ingredients:150g minced chicken (gently cooked)10g broccoli and carrots (steamed)50g Japanese pumpkin (steamed)1 hard boiled egg
1. Mix chicken, broccoli and carrots.
2. Mash pumpkin into purée.
3. Slice hardboiled egg.
4. Mix and serve!
*Recipe makes approximately 240g of food or 2 to 4 servings
The Raw Standard
Ingredients:150g minced chicken (gently cooked)1 – 2 chicken feet (declawed)10g broccoli10g carrots1 hardboiled eggSupplements (Optional)
1. Mix minced chicken, broccoli and carrots.
2. Slice hardboiled egg.
3. Mix ingredients and serve!
4. Add supplements for added nutrition (Optional)
*Pack meals into bags and freeze. For optimum taste, thaw food one day in advance. Do not refreeze!
Siew Mai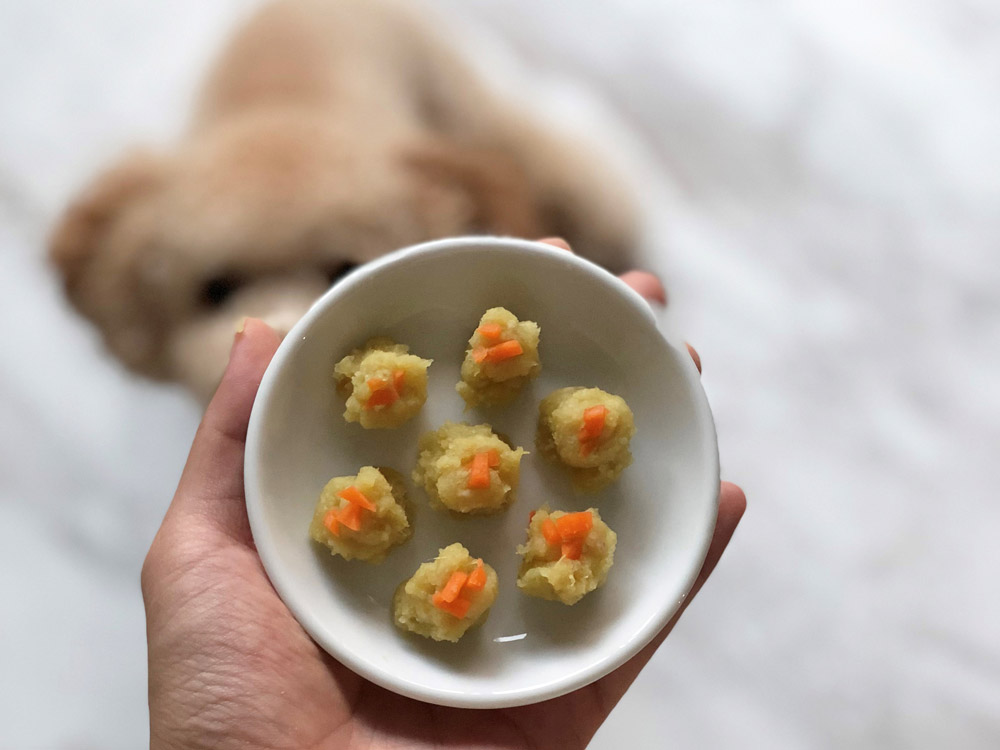 Ingredients:150g sweet potato (steamed)20g minced meat (gently cooked)1 baby carrot (diced)
1. Mash sweet potato into purée.
2. Mix minced chicken and sweet potato purée.
3. Put mixture into a ziplock or transparent bag and snip off the end.
4. Pipe according to your desired size
5. Place diced carrots on top.
6. Let cool or place it into the refrigerator for 15 to 20 minutes
*Refrigerated siew mai can last up to a week.
Can't wait to try your hands at these recipes? Be one of the FIVE lucky winners to win a set of ingredients from Sproutfore of your choice recipe when you comment on our Facebook post on the recipe that you'll want to try out most and why. Then, like and share the post to win! Giveaway ends 26th October, 11.59pm so hurry!