For convenient playdates and more
There are plenty of pet-friendly cafes around in Singapore, but a bulk of them are located in far-flung heartland neighbourhoods that can be a bit inconvenient to get to for pet owners who live on the other end of the country. This shouldn't stop us from organising play dates with fellow pet lovers though, so here's a list of pet-friendly cafes nestled in central Singapore, including town, the CBD, and along the Singapore River:
1. Earlybird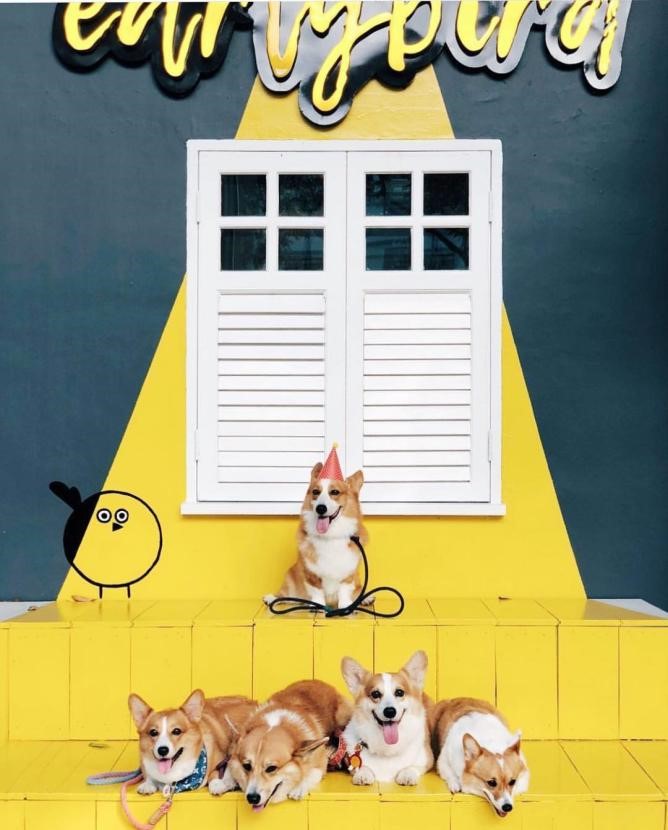 Source: @thestumpylegs
If you thought fried chicken and waffles were good, wait till you try Earlybird's Chicken & Pancakes ($19). A cheery bird-themed cafe with bright yellow walls and colourful murals of birds, Earlybird is a crowd-favourite amongst dog owners even though it does not provide food specially made for the critters.
Source: @munafique and @yongweikai
The reason is simple – everything about the place is photo-worthy, from the decor to the delicious dishes, coffee is good, and there is plenty of shade for the doggos to rest under.
Address: 17 Jln Pinang, Singapore 199149
Opening Hours: Mon – Thurs: 10AM – 10PM | Fri: 10AM – 11PM | Sat: 9AM – 11PM | Sun: 9AM – 10PM
Telephone: 9788 6856
Nearest MRT: Bugis
Website: https://www.facebook.com/earlybirdcafesingapore/
2. Kontiki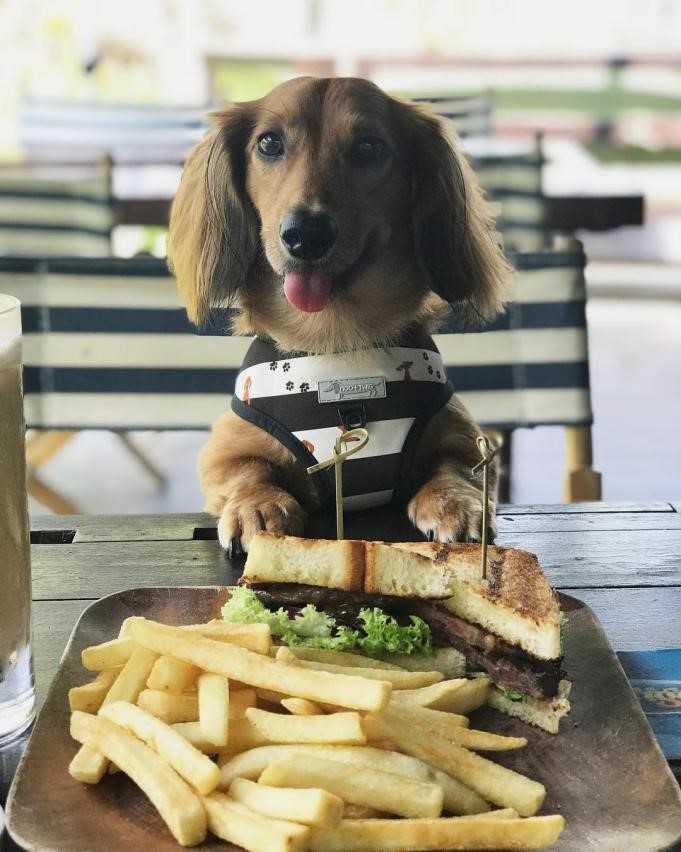 Source: @hugodoxie 
Overlooking the Singapore River and city skyline at Marina Bay, Kontiki is an American bar and restaurant with a rustic alfresco dining area for you and your pup to chill at. Every table comes with a huge umbrella shelter so you don't have to worry about your pet getting overheated, and if you're feeling generous, you can give your precious pooch a taste or two of the scrumptious Western dishes available – think Cajun Roast Chicken ($23), Oven-Baked Cod Fish with Aglio Olio ($24), and Homemade Bread & Butter Pudding.
Address: 11 Rhu Cross, #01-02, Singapore 437440
Opening Hours: Tue – Fri: 5PM – 12AM | Sat – Sun: 10AM – 12AM
Telephone: 6268 5225
Nearest MRT: Promenade
Website: https://www.facebook.com/KontikiSG
3. My Awesome Cafe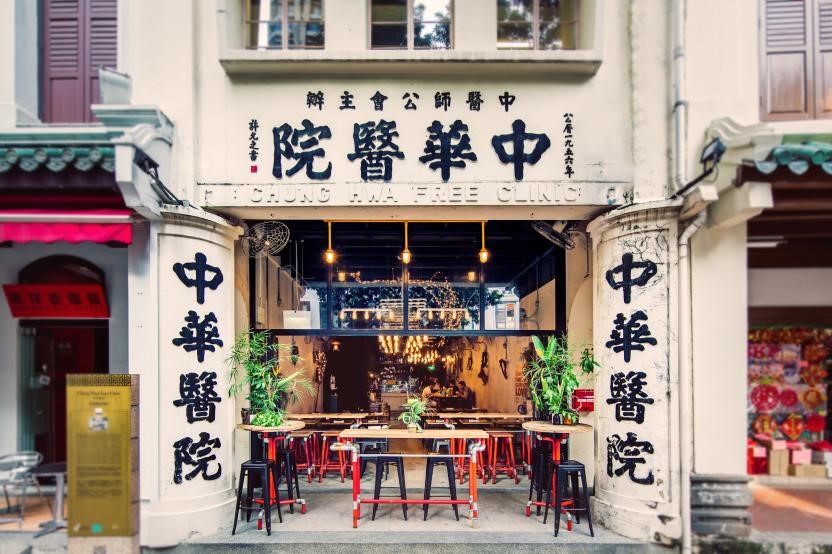 Source: My Awesome Cafe 
With a Traditional Chinese Medicine clinic front and an edgy, rustic interior, My Awesome Cafe is definitely high on every cafe-hopper's go-to list. Dishing up a variety of brunch items like sandwiches, croissants, and salads, the best part about My Awesome Cafe is that they allow you and your furry friend to sit indoors if there isn't a crowd. Of course, your pup has to be leashed for the sake of other patrons, but do make sure to call ahead and check if it's alright for you guys to sit inside, just in case.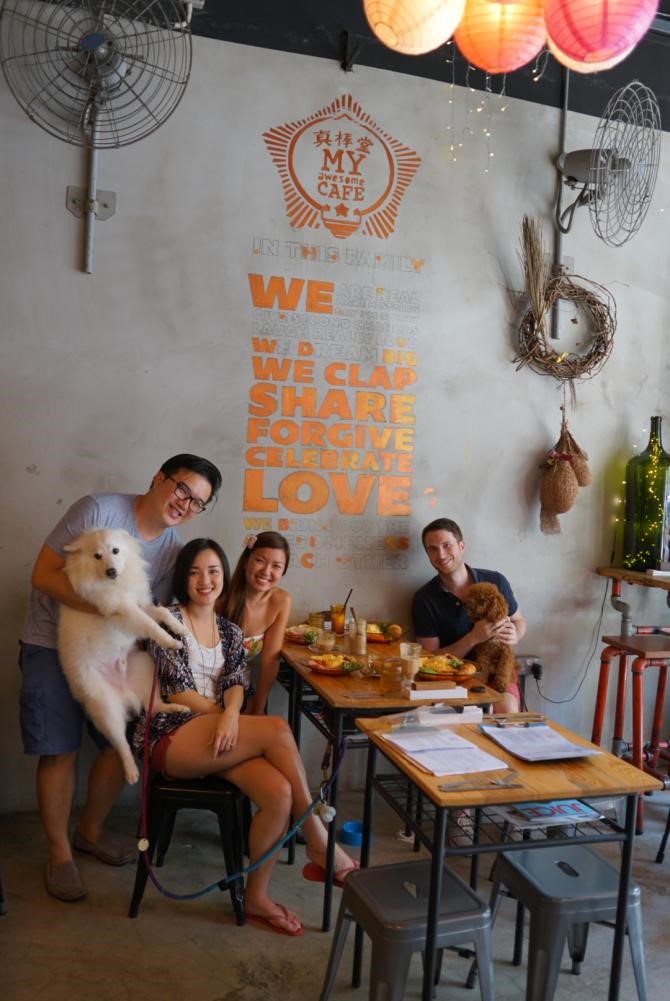 Source: polarthecurious.com
Address: 202 Telok Ayer Street, Singapore 068639
Opening Hours: Mon – Fri: 8.45AM – 12AM | Sat – Sun: 8AM – 12AM
Telephone: 6222 2007
Nearest MRT: Telok Ayer
Website: http://www.myawesomecafe.com/
4. Kith Cafe @ Robertson Quay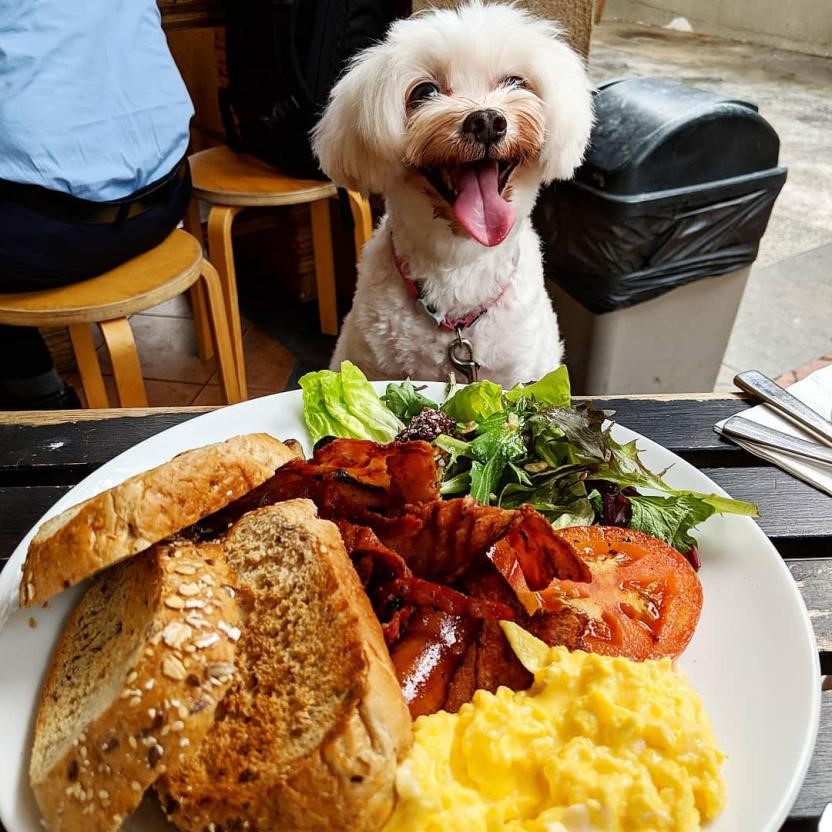 Source: @xmac2006
Situated right by the Singapore River along Robertson Quay, Kith Cafe is the perfect spot to soak in the breeze on a lazy afternoon. While it offers only the typical brunch fare and coffee selections, the highlight of Kith Cafe is its impeccable service – portions are huge, dog-safe orders are whipped up upon request, and water bowls are provided. Do give them a call as a heads up, though!
Address: 7 Rodyk Street, #01-28 Robertson Quay, Singapore 238215
Opening Hours: Mon – Fri: 7AM – 4PM | Sat – Sun: 7AM – 6PM
Telephone: 6341 9407
Nearest MRT: Clarke Quay
Website: http://kith.com.sg/
5. Marcello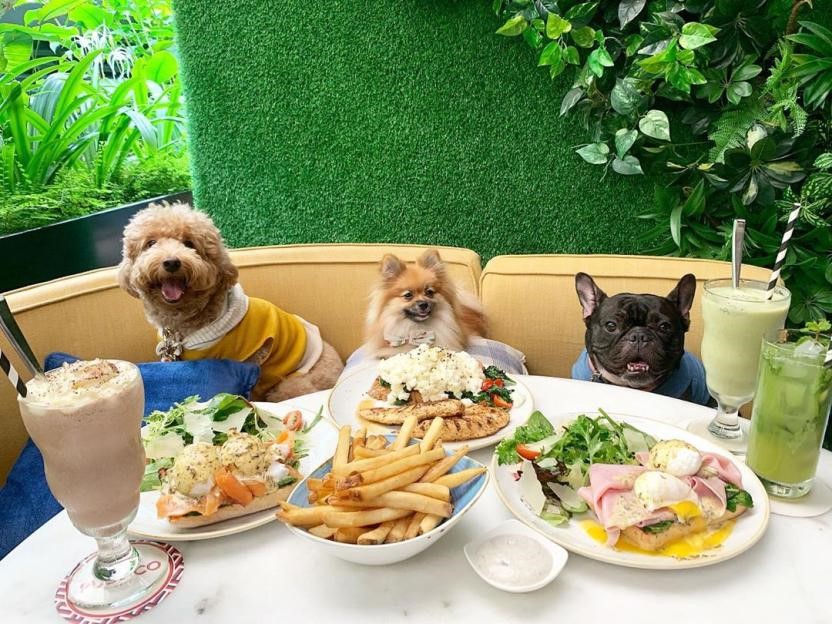 Source: @boo._thefrenchie
Nestled in Intercontinental Robertson Quay is Marcello, one of the only hotel restaurants with a dog-friendly deli extension in Singapore. While the deli is alfresco, it boasts plush sofa seats and lush greenery, which makes for both pretty photos and comfy play dates!
Notable dishes include brunch items like Pancakes and Berffies ($16), Smoked Salmon Benedict ($24), and Mediterranean Scramble ($21), which is made of scrambled egg whites and chicken breast in yoghurt on top of chewy sourdough bread.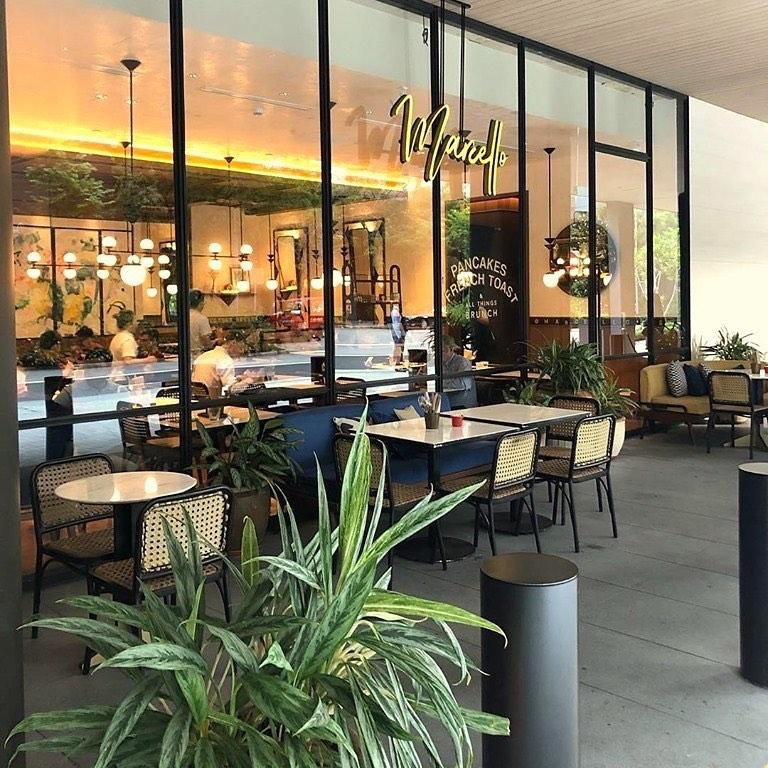 Source: @marcello_sg
Address: 1 Nanson Rd, Singapore 238909
Opening Hours: Mon – Thur: 5PM – 11PM | Fri: 5PM – 12AM | Sat: 12PM – 12AM | Sun: 11AM – 11PM
Telephone: 6826 5040
Nearest MRT: Clarke Quay
Website: https://robertsonquay.intercontinental.com/marcello