Source: Javier Brosch on Unsplash
It's time to stretch those paws!
Taking your pet to the beach is a good option if you're bored of your regular dog-walks or indoor play-time. With the right precautions, you can take your dog—and even your cat—to the beach for a wonderful sunshine-filled time.
Read on for our tips and tricks for a successful beach day!
1. First steps
This may be a no-brainer, but checking beforehand whether the beach is pet-friendly is the first step! In Singapore, Tanjong Beach is a popular haunt for beach-goers and their fur-pals.
While dogs may be excited about a day at the shore, your kitty may not share the sentiment. When it comes to cats, it is important to take their opinion into consideration too! Although many cats are adventurers and curious explorers, your kitty may prefer to simply stay home. Forcing your cat to enjoy the beach may result in unnecessary stress and anxiety.
However, if your pet is ready to be on their day, it's time to go off to the beach! Remember to pack the essentials: water, food, a harness or leash, and wet wipes! Once you're there, choose a shady spot, making sure it's away from the crashing waves if your pet is on the nervous side.
2. Watch out for the heat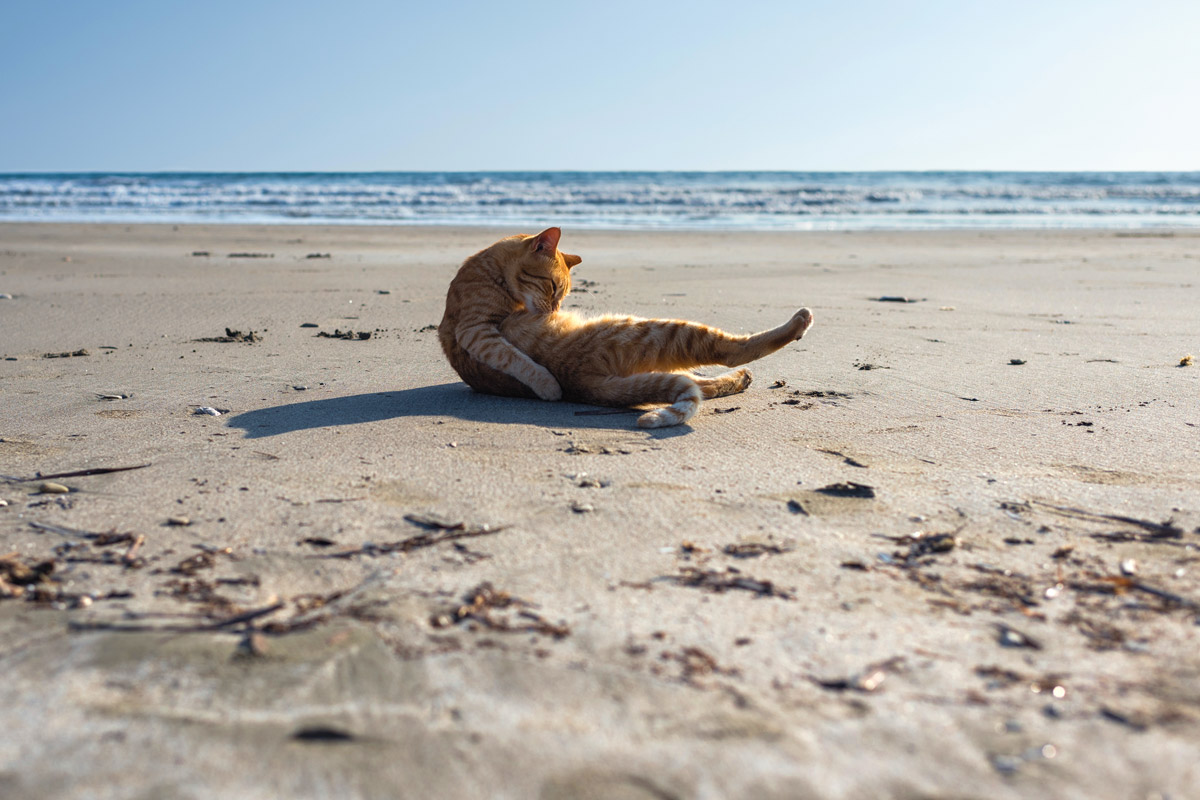 Source: FTiare on Unsplash
Both dogs and cats are sensitive to high temperatures. Overheating is a huge risk for pets, as our furry friends aren't able to sweat the same way we do to cool down. In serious cases, overheating may cause heat stroke. Look out for the signs your pet is too warm, such as deep panting and fatigue—in which case you should get them out of the sun, ASAP.
Heat rash is another common consequence of prolonged exposure to heat. It is fairly common in dogs, characterised by raised, red bumps on their skin. In severe cases, extreme sunburn may even lead to skin cancer in both dogs and cats. Light-coloured and fine-haired animals are particularly vulnerable to the damaging effects of the sun.
It's important, therefore, to mind the weather! Choose to go in the early mornings or late afternoons to avoid the blazing sun and the hot sand, which can cause burns on their delicate paws! Cats will especially appreciate you choosing a time with fewer crowds.
Of course, don't forget to bring plenty of fresh water so keep your furry friend (and yourself) well-hydrated.
3. Keep your pet close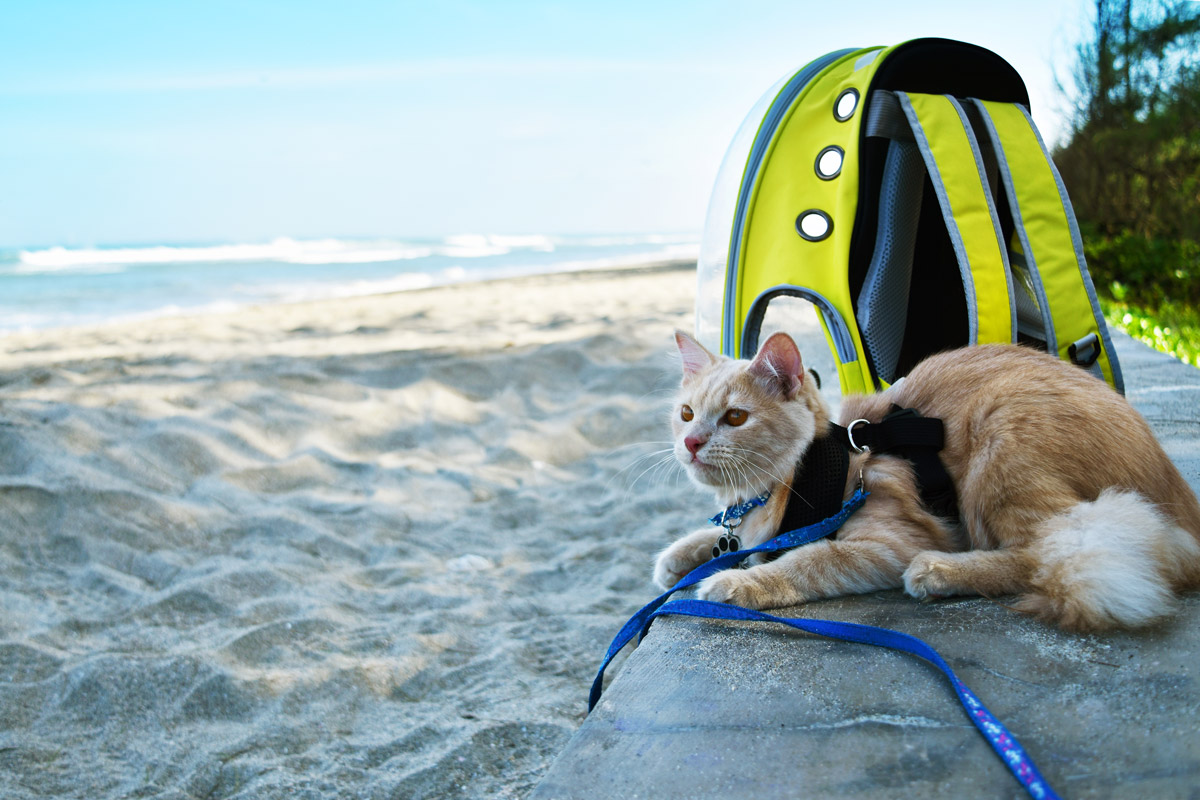 Source: sofirinaja on Unsplash
Your pet may enjoy bounding through the sand and paddling in the water, but remember to keep them in eyeline at all times! It's important to keep your pet away from hazards as well: the odd bit of glass, plastic bags and even spiky sea creatures may be harmful to them.
Having your pet on a lead or in a harness is a good idea, as pets may make a dash for it if they're startled. A suitable pet life-jacket may also be a valuable investment. Some owners even opt to have their pet take swimming lessons, beforehand. This may be a nifty way to get first-timers accustomed to water safely, and be better able to navigate choppy, open seawater.
For cats, bringing them along in a cat-carrier or backpack may be handy, as they may prefer lazing and gazing out at the beach from the comfort of their carrier. Carriers also provide a safe, reliable shelter to zip into if anything bothers them while they're exploring.
4. Wash-up!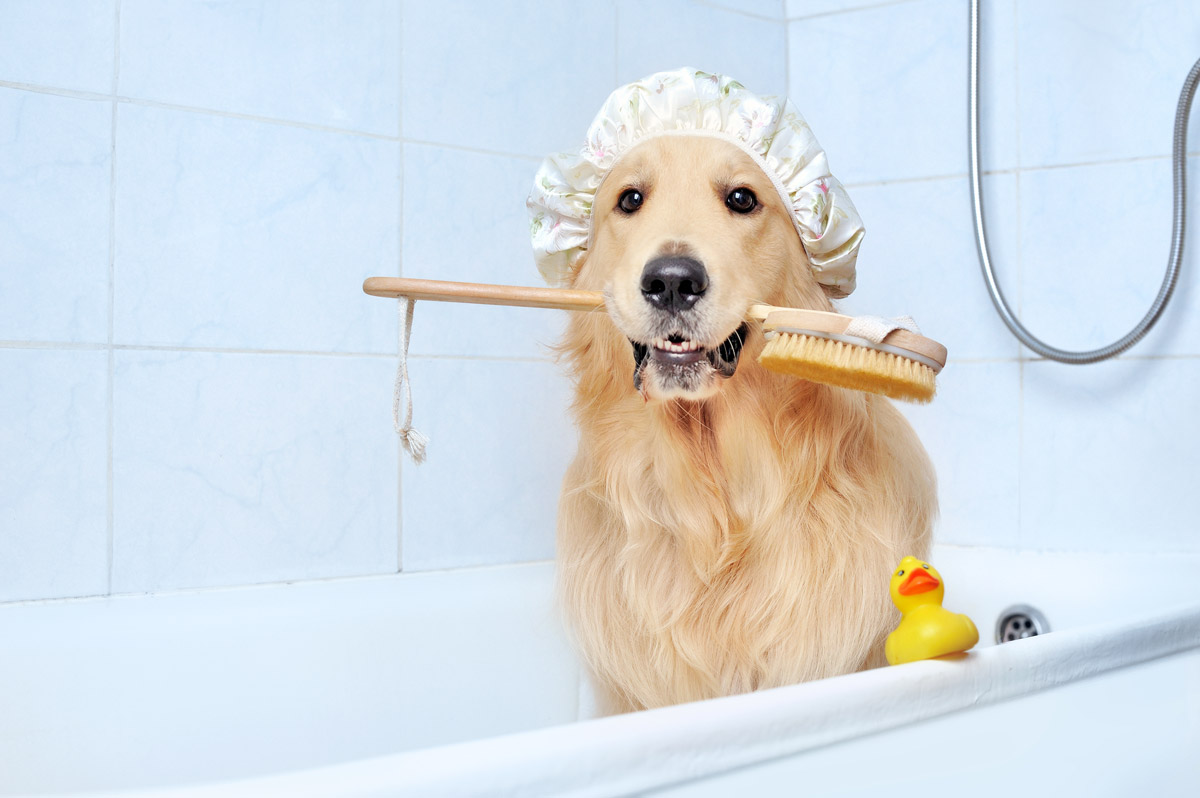 Source: iagodina on Unsplash
When you get home, chances are, there is going to be sand everywhere. Leaving the sand on your pet's fur may prove a very itchy affair, so be sure to help them clean up! A bath is the most ideal solution, however wet wipes or cleansing sprays may also be helpful in getting the sand out of the nooks and crannies in their paws.
Congratulations! You and your pet just spent a great day at the beach. Remember to stay hydrated—and start planning your next beach day in Singapore!